Former UN Ambassador Samantha Power to speak at Northwestern
Political science professor Wendy Pearlman will moderate discussion, followed by Q&A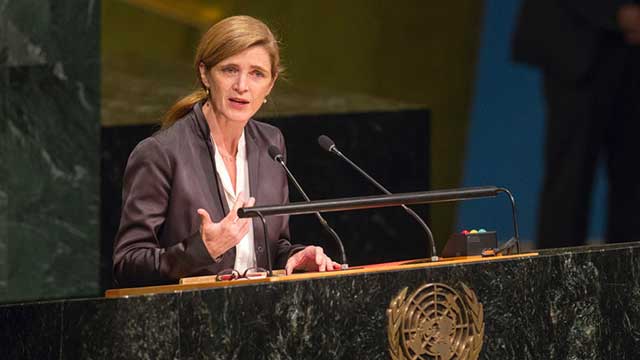 EVANSTON - Samantha Power, a Pulitzer Prize-winning author and former U.S. Ambassador to the United Nations, will speak Oct. 2 on Northwestern University's Evanston campus.
The event, hosted by the student-led Contemporary Thought Speaker Series (CTSS), the Global Engagement Summit (GES) and the department of political science, will be held at 7:30 p.m., Monday, Oct. 2, in Ryan Auditorium at the Technological Institute.
The event will include a conversation with Power moderated by Wendy Pearlman, associate professor of political science in the Weinberg College of Arts and Sciences at Northwestern, followed by a Q&A with student questions.
Admission is free but tickets are required for the event and are available online through Eventbrite. The event is open only to current Northwestern students, faculty and staff.
Power served as U.S. Ambassador to the United Nations from 2013-17 under President Barack Obama. Before that, she served on Obama's National Security Council and was a senior adviser to then-Senator Obama's presidential campaign. Power began her career as a war correspondent for various publications before writing her first book, "A Problem from Hell: America and the Age of Genocide," which discussed America's role responding to genocide and won the Pulitzer Prize for Nonfiction. She now serves as a professor at both Harvard Law School and Harvard's Kennedy School of Government. 
President Barack Obama called Power "one of our foremost thinkers on foreign policy" during her tenure as UN ambassador.
"Ambassador Power's work in genocide prevention and human rights has inspired so many of us to pursue socially conscious paths," said Mollie Leavitt, campus relations co-chair of GES. "We are thrilled to have the chance to share her story with Northwestern's campus."
Obama has called her "one of our foremost thinkers on foreign policy" who has "showed us that the international community has a moral responsibility and a profound interest in resolving conflicts and defending human dignity."
"Ambassador Power has been a powerful voice on every corner of foreign policy for almost two decades, so we are so excited to hear from her during such a crucial and unique time in global affairs," said Ben Zimmermann, chair of CTSS. "Her experience as a renowned academic, award-winning author and a top-level policymaker highlight her career as an interdisciplinary thought-leader -- the exact kind of speaker we look to bring to Northwestern."
Former Secretary of State Madeleine Albright has described Power as "a powerful friend to the displaced and downtrodden and a foe of dictators and despots" as she has "never stopped defending the values America holds dear." Ambassador Power has been named one of TIME's "100 Most Influential people" in both 2004 and 2015 and one of Foreign Policy's "Top 100 Global Thinkers" three times.
"The political science department in Weinberg College is delighted to once again partner with student groups to bring a speaker to campus who has a great deal to contribute to thoughtful discourse about difficult issues in public affairs," said Sara Monoson, chair of the department of political science at Northwestern.
Pearlman, who will moderate the discussion, specializes in the comparative politics of the Middle East. She is the author of three books, including "We Crossed a Bridge and it Trembled: Voices from Syria"(2017), which The New York Times Book Review described as "essential reading" and is based on interviews from 2012 to the present with more than 300 displaced Syrians. She also is the author of dozens of essays, academic articles or book chapters and has studied or conducted research in Spain, Germany, Morocco, Egypt, Lebanon, Jordan, Turkey, Israel and the West Bank and Gaza Strip.
This discussion will be the first CTSS event of the year. Previous CTSS speakers include writer Ta-Nehisi Coates, Academy Award-winning filmmaker Barry Jenkins, Pulitzer Prize-winning critic Emily Nussbaum, acclaimed author Zadie Smith, Pulitzer Prize-winning writer Junot Díaz, journalist Sarah Koenig, hip-hop artist Killer Mike, astrophysicist Neil deGrasse Tyson and activist Angela Davis.
The Global Engagement Summit is a student-run organization that puts on a weeklong social entrepreneurship summit every spring. In the 13 summits held, more than 500 delegates from 45 countries around the world have attended. In addition to planning the summit, GES brings globally minded programming to campus, engaging Northwestern students in nuanced conversations. This is GES's first campus-wide event of the year. In past years, GES has brought activists Deray McKesson and Khalida Brohi to speak on campus, in addition to various socially conscious career panels for students.
Back to top