Northwestern solar home shows off in prime time
Competition portion of 2017 Solar Decathlon started Oct. 5, runs through Oct. 15 in Denver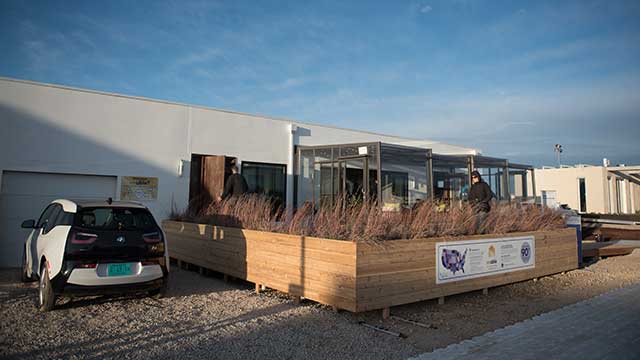 UPDATE: In the ten Solar Decathlon contests, House by Northwestern took first place in Market Potential and Communications,and third place in Engineering. Overall, the team placed sixth out of 11 teams. For complete scores and standings, visit the Solar Decathlon website. 
DENVER - Following a 1,000-plus-mile trek and an intense reassembly by tireless team members, Northwestern University's student-designed solar home, Enable, is ready for the main event.
Several members of the team of House by Northwestern (HBN) arrived a week early to prepare Enable for its first entry into the Department of Energy's (DOE) Solar Decathlon, a collegiate competition that challenges teams to build a full-size solar-powered home.
Sloshing through the muddy decathlon site -- it was pelted by torrential rain for days near Denver International Airport -- HBN members, construction crews and contractors assembled the nearly 1,000-square-foot home, which had been broken into three parts and brought west in eight trucks. With the sound of jackhammers, drills and other heavy construction equipment in the background, HBN team members hustled day and night to get the home spick and span.
By time the decathlon's media preview rolled around on Oct. 4, a gleaming Enable showed off its sun-room and roof-integrated solar panels as the storms passed and gave way to blue skies and, fittingly, lots of sun.
"I've been jumping up and down since I got here," said Lila Reynolds, a junior at the Medill School of Journalism who leads HBN's communications efforts. "It's kind of crazy to be here because we've been working on it for months now and thinking about the competition. But to actually be here and be competing and showing off all the work that we've done is a really incredible feeling."
"It surpasses even what I imagined it could be," added Sophie Sisson, a senior civil engineering major in the McCormick School of Engineering.
Sisson, Reynolds and other HBN members will remain in Denver through the duration of the competition, which began Oct. 5 and wraps up Oct. 15. Teams will be judged in 10 different contests that score everything from energy efficiency and architectural design to health and comfort and communications.

After nearly a year-and-a-half of planning, market research and construction -- plus the hectic nine-day rebuilding period in Denver -- excitement among the Northwestern students was palpable as they finished their work in the crisp Colorado air.

"Now that I'm here? Amazing, to be honest," said junior Vivien Ng, the interiors lead, when asked about how the house looks now. "To see the artwork hung and all the tiny little details that I wanted in here to reflect that this is a real home feels kind of surreal."

HBN has a shot at the $300,000 grand prize in its maiden voyage to the decathlon, but will go up against seasoned teams like Missouri University of Science & Technology, which has participated in five of the seven Solar Decathlons since the competition's inception in 2002. 

Inside a large fenced-in parcel of land dotted with cranes, Bobcats and other construction equipment, and lined with temporary white plastic sidewalks, the decathlon site spaces teams apart by no more than 100 yards. Members of the media, contest judges and the public get to compare, side-by-side, widely different approaches to achieving the same goal.

Shepherded by a DOE staffer, a gaggle of reporters stopped by Enable for the media preview on Oct. 4. Reynolds served as the de facto spokesperson, answering questions while promoting some of Enable's key features, all of which were designed with their target demographic of aging baby boomers on Chicago's North Shore.

Meanwhile, students from some of the other 10 schools stopped by as well, many offering praise of Enable's interior.

Getting to that point required tremendous sacrifice by Ng, Reynolds and the rest of the crew, who donated large portions of their time to see the massive project through. Ng was one of several members of HBN who arrived in Denver on Sept. 28, often working from 7 a.m. to midnight every day leading up to the media preview.

"On the outside, everybody makes it looks so easy. But behind those walls, we're sweating bullets," said Dick Co, faculty director of HBN and a professor of chemistry in the Weinberg College of Arts and Sciences at Northwestern. "This is the best part, though. People get to see how beautiful this is, and people want it."

$300,000grand prize for the winner of the 2017 Solar Decathlon

Why take on that kind of stress? Ng's interest was sparked by seeing a smart home in Chicago's Museum of Science and Industry in the eighth grade, but her passion runs deeper than that.

"I really wanted to commit to something, go all-in on something going into college and make the most of my four years here," said Ng, a manufacturing and design engineering major. "I felt like it was a once-in-a-lifetime chance, and I did everything I could to be as involved as possible. I am so happy that things have worked out the way they have."

Financial support from the University (through the Office for Research, sustainNU, Facilities Management and the Institute for Sustainability and Energy at Northwestern), corporate sponsors and other donors made the finished product possible. Bob Fisher, president of Evanston Lumber, donated Marvin windows and worked with colleagues to secure the home's siding.

Based in Evanston, Fisher made the trip to Denver in part for business. He also shared in the sweat and toil of setting up the house at the decathlon site. Sporting a bright construction jacket and hard hat, he troubleshot a variety of issues and helped refine the home's finishing touches as the competition neared.

"It became a passionate pursuit for me," said Fisher, whose two sons graduated from Northwestern. "I want it to go well for them. It's been really fun, and it's really good people."

During VIP tours on Oct. 4, members of the Northwestern Alumni Association toured the home. In between the morning visits from the media and the VIP tours, the HBN team enjoyed a rare moment of calm in their fully-furnished home.

Ng perhaps said it best during that respite, on the eve of the contest. She reflected on the long process while sitting at a wooden kitchen table accented by placemats and cloth napkins she picked out.

"This has been very educational for us, really good for us," she said.

"It feels like home." 
More about Solar Decathlon 2017
The first Solar Decathlon was in 2002, followed by 2005 and every two years thereafter.
Other teams in this year's contest include:
University of Nevada, Las Vegas
University of Maryland
HU University of Applied Science Utrecht (Netherlands)
The 'Swiss Team,' comprised of students from four Swiss universities
University of Alabama at Birmingham and Calhoun Community College
Embry-Riddle Aeronautical University and Daytona State College
University of California, Berkeley and University of Denver
University of California, Davis
Washington University in St. Louis
Missouri University of Science and Technology
Back to top