Q&A

International student shares insights

SESP graduate student Tong Jin helps others adapt to American education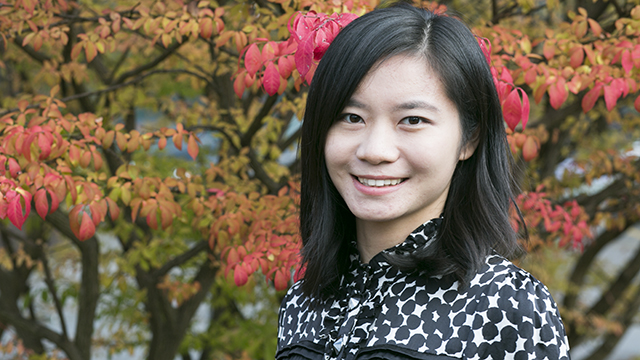 Tong Jin, a Northwestern University graduate student, left her hometown of Guiyang in China to study chemistry in the United States. But her experiences as an international student in America also led her to further pursue knowledge about higher education in the U.S.
Jin, who is in the higher education administration and policy program in the School of Education and Social Policy, is also a graduate assistant in that program and in Northwestern's International Office.
Related: Learn more about Northwestern's global reach
So while she's still adapting to the humanities coursework and becoming more familiar with the culture of higher education in America, she's also passing her knowledge and experience to other international students who've only recently arrived from countries all around the globe.
How did you find your way to Northwestern?
 I came to the U.S. in 2011, and at that time I pursued a Ph.D. in chemistry at the University of New Hampshire, and I graduated last year. During that program, I served as a teaching assistant for four years, and I really enjoyed teaching and interacting with students in higher education. I also felt I was more interested in learning about American higher education, so that's why I decided to apply for this program at Northwestern.
Why was Northwestern the right choice for your pursuits in higher education?
Northwestern is a very diverse institution, and we have a lot of people from different backgrounds. So when we do projects together in my program, it's very interesting to learn about other people and their perspectives and different backgrounds. And I really enjoy working in the International Office. The projects we do are meaningful and interesting because we provide international students with a lot of information and we give them an idea of what America looks like.
What led you to become a graduate assistant in the International Office?
It's part of my personal identity. I'm an international student, so I want to contribute myself to something for international students through the International Office. Now, I have the opportunity to interact with students from different countries. And I'm learning different cultures from others and learning how to communicate with them and to learn about their challenges and their interests. As a graduate assistant in the International Office, I think I can do something to improve their experience at Northwestern.
How do you use your identity to help others?
I have been in the United States for several years, so I kind of know what challenges are faced by international students when they first come here, for example, about housing, transportation and banking. They are not familiar with the United States, and they have no idea how to find these resources. So, I'm happy to show them and to let them know how and where to find these resources. As an experienced international student, more so as a graduate assistant in the International Office, this is my responsibility, to help other international students navigate their lives at Northwestern.
Why was it important for you to leave home for the U.S.?
I came here from China, so I learned how to work with people from different countries and solve problems together. I'm preparing to adapt to a diverse workforce in the future. International students have to face a lot of difficulties, for example, language barriers would be the first challenge for us. Also, we have to face culture shock when we get out of our comfort zone and learning a totally different culture. But on the other hand, it's a great opportunity for us to see a different world. In the future, no matter where we are, we will be able to know how to interact with people from different cultures and backgrounds. This is the significance of international education.
Back to top