2018 Benjamin Franklin Medal in Electrical Engineering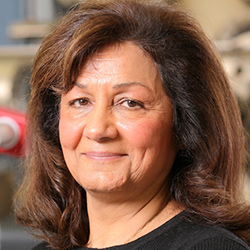 Manijeh Razeghi, a professor of electrical engineering and computer science, has been awarded the 2018 Benjamin Franklin Medal in Electrical Engineering from The Franklin Institute.
Razeghi is recognized "for the realization of high-power terahertz frequency sources operating at room temperature using specially designed and manufactured semiconductor lasers, which enables a new generation of imagers, chemical/biological sensors, and ultra-broadband wireless communication systems," according to the institute.
The Franklin Institute awards ceremony and dinner will be held April 19, 2018.
American Mathematical Society fellow
Aaron Naber, a professor of mathematics, has been named to the 2018 Class of the Fellows of the American Mathematical Society. He was selected for his contributions to differential geometry, particularly to manifolds with bounds on Ricci curvature.
Kenneth Ribet, president of the American Mathematical Society, said of the 2018 Class of Fellows, "This year's class of AMS Fellows has been selected from a large and deep pool of superb candidates. It is my pleasure and honor as AMS president to congratulate the new fellows for their diverse contributions to the mathematical sciences and to the mathematics profession."
Drupal Association board
Adam Goodman, director of the Center for Leadership and clinical associate professor undergraduate engineering in the McCormick School of Engineering, has been named chair of the board of directors for the Drupal Association.
The Drupal Association is an international body that supports Drupal, one of the most widely used open-source software projects in the world. Drupal, which has 1.3 million members and approximately 109,000 users contributing code, is used to build content-rich websites.
Goodman succeeds Drupal's founder, Dries Buytaert. The board includes representatives from major organizations and companies such as Google, Pfizer and Accenture.
Luke Figora
Luke Figora, assistant vice president for risk management and environmental health and safety in Northwestern University's Office of Risk Management, has been elected president of the University Risk Management and Insurance Association (URMIA).
Figora has been at Northwestern since March 2015 and played a key role in implementing the University's updated enterprise risk management framework. After 12 months serving in a president-elect capacity, Figora will assume the presidency at URMIA in September 2018, marking the association's 50th anniversary.
More than 600 higher education institutions and 2,500 individuals worldwide are members of URMIA, a non-profit education association that promotes the advancement and application of effective risk management principles and practices in institutions of higher education. Figora has been a member of URMIA since 2010 and has since served in several leadership roles, including regularly chairing the Midwest regional conference.
Paul Mellon Visiting Senior Fellow
S. Hollis Clayson, art history professor in the Weinberg College of Arts and Sciences, has been named the Paul Mellon Visiting Senior Fellow for fall 2017 at the National Gallery of Art in Washington, D.C.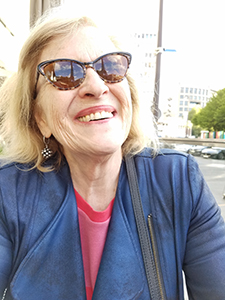 "It is a welcome opportunity to return to The Center for Advanced Study in the Visual Arts at the National Gallery of Art, where I was the Samuel H. Kress Professor in 2013 to 2014," Clayson said. "CASVA is a major research center in the History of Art."
Clayson is a historian of modern art who specializes in 19th-century Europe, especially France, and transatlantic exchanges between France and the U.S.