EVANSTON - Lance M. Fritz, chairman, president and CEO of Union Pacific, will discuss international trade and NAFTA's proven success when he delivers the 36th Annual William A. Patterson Transportation Lecture on May 3 at Northwestern University.
In his talk, "Connecting People, Creating A Better Future — Why International Trade Benefits America," Fritz will explain why the U.S. must continue to lead the world in negotiating trade agreements.
"Trade opens new markets to American companies, allowing the nation's workers and businesses to compete internationally, and supports Americans' standard of living and way of life," said Fritz, a Northwestern alumnus.
The event will begin at 7:30 p.m. in the McCormick Foundation Auditorium of the James L. Allen Center, 2169 Campus Drive, on the Evanston campus. Sponsored by the University's Transportation Center, the event is free and open to the public.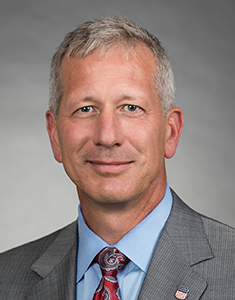 Fritz became Union Pacific's president and CEO on Feb. 5, 2015, when he also was elected to the corporation's board of directors. He also became chairman of its board Oct. 1, 2015.
Fritz previously served as president and chief operating officer of Union Pacific Railroad, Union Pacific's principal operating company, beginning in February 2014. Prior to that, he served as executive vice president of operations and vice president of labor relations. He began his Union Pacific career in July 2000 as vice president and general manager of energy in the company's marketing and sales department.
Before joining Union Pacific, Fritz worked for Fiskars Inc., Cooper Industries and General Electric. He is a graduate of Bucknell University and earned a master's degree in management from Northwestern's Kellogg School of Management.
Union Pacific Railroad, one of America's major transportation companies, links 23 states and serves many of the fastest-growing population centers and provides a fuel-efficient, environmentally responsible and safe mode of freight transportation.
The Patterson Transportation Lecture is an annual event supported by the Patterson Transportation Endowment, established at Northwestern in 1979 and honoring the late William A. Patterson, founder and CEO of United Airlines.
Northwestern University Transportation Center is one of the world's leading interdisciplinary education and research institutions, serving industry, government and the public. Founded in 1954 to make substantive and enduring contributions to the movement of materials, people, energy and information, the center stands at the forefront of transportation research and education, bringing together academic researchers, students and business affiliates in open exploration of transportation and supply chain operations.
For more information, call 847-491-2280 or visit the Transportation Center website.