'The Tender Land' closes Bienen Opera season
Composer Aaron Copland conducted 1958 production at Northwestern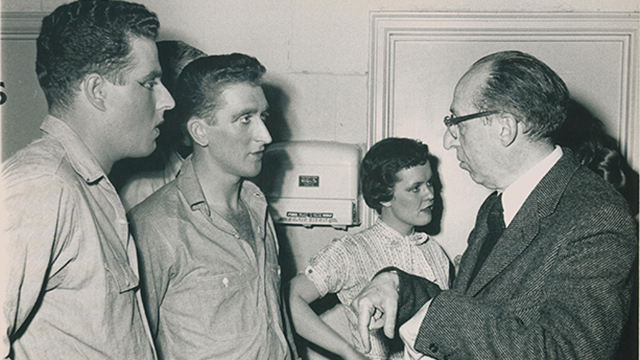 EVANSTON - Aaron Copland's Depression-era love story "The Tender Land" concludes the Northwestern University Opera Theater season at the Henry and Leigh Bienen School of Music.
"The Tender Land," the story of a young farm girl who falls in love with an itinerant worker, runs May 18 to 21 at Cahn Auditorium, 600 Emerson Street on the Evanston campus.
Copland and Northwestern
From February 17 through March 2, 1958, composer Aaron Copland visited the Northwestern University School of Music. Over the course of his visit, School of Music ensembles performed his chamber music, band, brass, piano, and choral compositions, and Copland gave lectures on music and composing.
A highlight of his visit was the February 28 performance of "The Tender Land," conducted by Copland and staged in Cahn Auditorium. At that time, Copland's first and only full-length opera was just four years past its premiere.
Copland wrote "The Tender Land" with young singers in mind, with "material that would be natural for them to sing and perform." It was as fitting a choice for its 1958 performance by the Northwestern University Opera Workshop as it is for Northwestern University Opera Theater today.
Copland, who nurtured a lifelong passion for teaching, would certainly have been pleased to see that his opera's legacy continues.
Aaron Copland's
"The Tender Land"
Thursday to Saturday, May 18 to 20, 7:30 p.m.
Sunday, May 21, 3 p.m.
Directed by Michael M. Ehrman

Conducted by Virginia Opera Principal Conductor and Artistic Advisor Adam Turner, Copland's opera is set in a rural Midwestern town in the 1930s. Laurie Moss is on the brink of graduating from high school when she meets Martin, an itinerant worker hired to help with the spring harvest on her family's farm. As this coming-of-age story unfolds, a romance blossoms between the two, and Laurie dreams of exploring the world beyond home. But the young couple must contend with the community's mistrust of outsiders and fear of the unknown.
Tickets for Northwestern University Opera Theater productions are $18 for the general public and $8 for students with valid ID. Tickets are available on the Concerts@Bienen website, by phone at 847-467-4000 or by visiting the ticket office at Pick-Staiger Concert Hall, 50 Arts Circle Drive, Evanston.
The Bienen School is a member of the Northwestern Arts Circle, which brings together film, humanities, literary arts, music, theatre, dance and visual arts. Search for events across all artistic disciplines at Northwestern Arts Circle.
Back to top