Ruth Gavison to deliver lecture on Israel
Leading intellectual to talk about Israel as Jewish and democratic state
EVANSTON - Ruth Gavison, one of Israel's leading intellectuals, will deliver the annual Philip M. and Ethel Klutznick Lecture in Jewish Civilization at Northwestern University.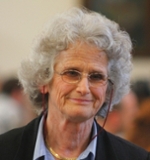 Gavison, a scholar on judicial activism, constitutional thought, human rights and religion in the public sphere, will talk about Israel as a Jewish and democratic state.
The lecture will take place at 7:30 p.m. Thursday, May 18, in Pick-Staiger Concert Hall, 50 Arts Circle Drive in Evanston. 
The Crown Family Center for Jewish and Israel Studies also has welcomed Gavison to Northwestern as a visiting professor of Israel studies for the spring quarter.
Gavison is the Haim H. Cohn Professor Emerita of Human Rights in the Faculty of Law at Hebrew University and a member of Israel's National Academy of Science. She is an expert on many legal issues facing the State of Israel, including the balance between Israel's identity as a Jewish state and its democratic structure; the relationship between religious and secular Jews; and Israel's lack of a constitution.
Gavison has written or edited more than a dozen booksand published countless articles in journals, including the Yale Law Journal, Stanford Law Review, Democratic Culture, and International Sociology and in edited volumes.
Since 1986, the Klutznick lecture is presented annually by the Crown Family Center and the Jewish United Fund of Metropolitan Chicago. Prominent Jewish studies scholars visit Northwestern to engage with the campus community and the general public in pursuit of a greater understanding of the history, religion and culture of the Jewish people.
The lecture generally draws a crowd of several hundred. In light of the distinguished speaker and the timely topic, this year's Klutznick lecture is expected to be lively and well attended.
Back to top