Northwestern hosts take our daughters and sons to work day
April 27 event will expose youth to career options and teach essential workplace skills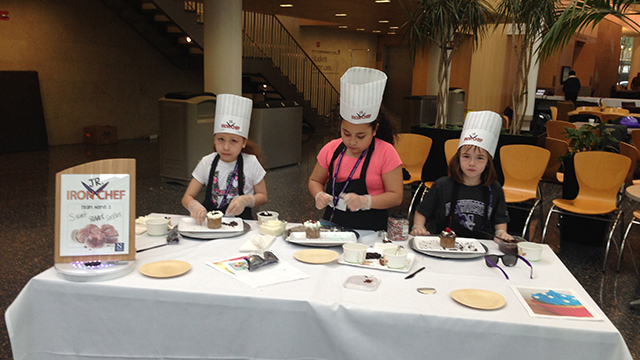 Northwestern faculty, staff and volunteers will teach kids what molecular scientists do in the lab, how interior designers choose the right furniture for a project and where the routines of campus police take them during the 23rd annual Take Our Daughters and Sons to Work Day on Thursday, April 27.
The 'Count on Me' theme focuses on dependability, an essential workplace trait.
An anticipated 350 children are expected to try out 30 different tour tracks on the Chicago and Evanston campuses. Each track is comprised of three morning workshops built around a STEM curriculum, combining science, technology, engineering and math with fun.   
Participation is free and open to children age 8 through 16 who are relatives or friends of Northwestern faculty and staff.
Online registration opens March 28 and closes April 11, or when spots are full. Early registration is recommended.
The nationally-recognized program, spearheaded by the Take Our Daughters and Sons to Work Foundation, aims to provide hands-on and interactive learning opportunities that help young people envision their professional goals.
A sampling of the tour tracks planned for the Evanston campus include "Be a Hero," a lesson in crisis response with the Emergency Operations Center; "All in a Day's Worm," a hands-on lab experience looking at worms under a microscope; and "Seismic Signals," an introduction to the science of seismology.  
Chicago campus tour tracks include "Design is Mine," a practice session in interior design; "CSI – NUPD," an overview of the Northwestern police department (the 411 on 911); and "Show Me the Money," a lesson in money management.
Following the morning activities, children will meet their Northwestern parent, guardian or staff sponsor for lunch on their own.  
Volunteers are needed to help organize and host this year's workshops.
More information and descriptions of the Evanston and Chicago campus tour tracks are available online.  
Northwestern's program is sponsored by the Office of Human Resources and made possible with the ongoing support of the Women's Center, the Association of Northwestern University Women (ANUW) and the Office of the President.  
Back to top