In the lab
Undergraduate students in Eva Redei's lab pursue their own research projects, wear silly hats and ride the water taxi to Chinatown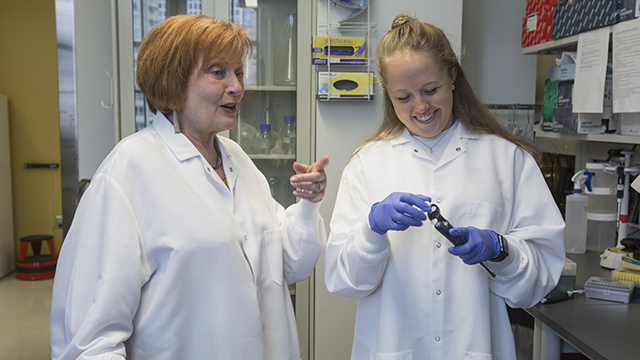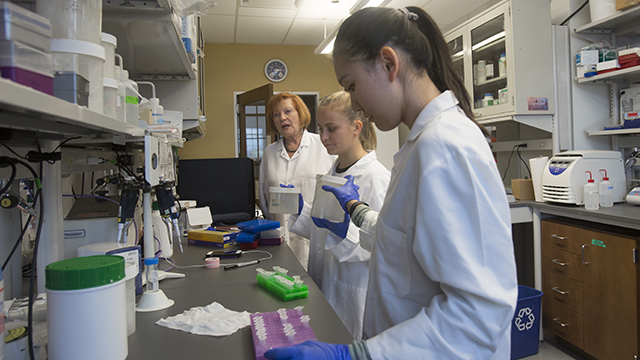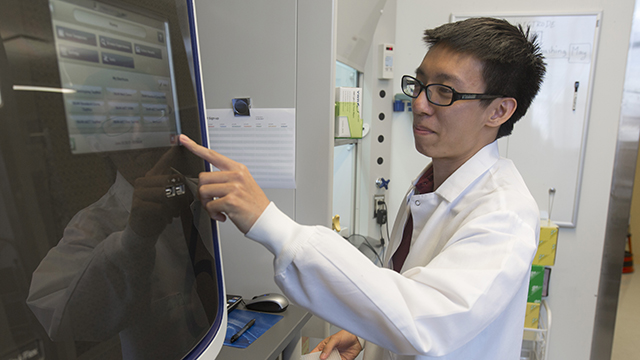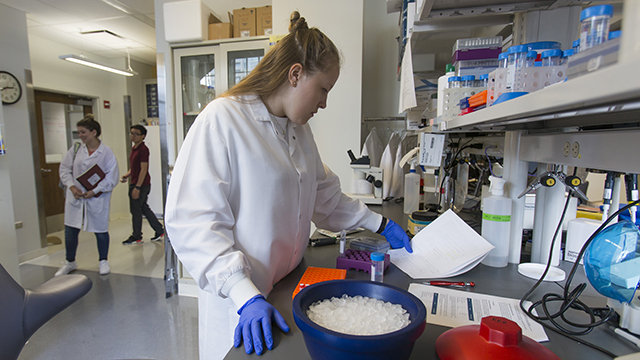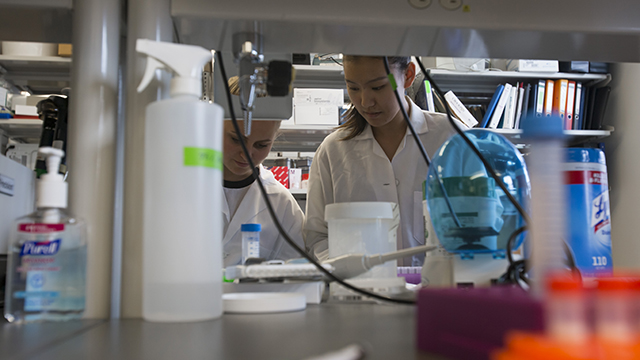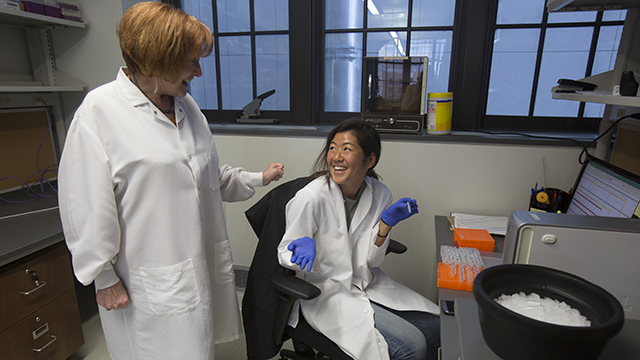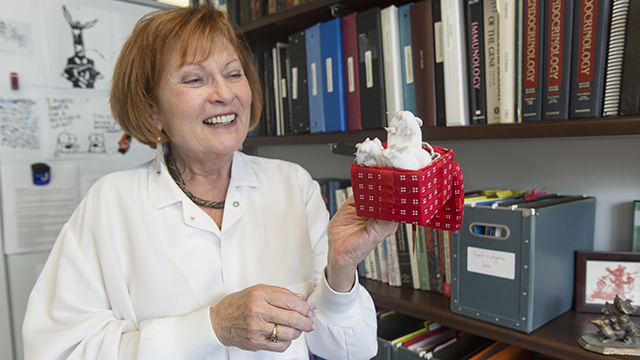 CHICAGO - Student researchers who work in professor Eva Redei's lab at Northwestern University investigate biomarkers of depression and fetal alcohol spectrum disorder.
But the students also hang out with Redei. The group gathers for outings, birthday celebrations with silly party hats and holiday parties. In the summer they ride the Chicago Water Taxi to Chinatown for a meal. They banter about travel, theater and art.
"We are having fun," Redei explained. "They're young, enthusiastic, interested, and they have a different view of the world than I do. They blurt out anything that comes to their heads, and that's good because in some of those blurtings, there are new ideas. And sometimes those ideas can be brilliant."
Redei, a professor of psychiatry and behavioral sciences at Northwestern University Feinberg School of Medicine and the David Lawrence Stein Research Professor of Psychiatric Diseases Affecting Children and Adolescents, has published more than 100 peer-reviewed articles. She developed a blood test to diagnose depression in adults and another blood test to diagnose the disease in teens. In a recent paper, Redei showed genes are not destiny in determining whether an individual will suffer from depression, and environment is a major factor.
Her recently published study on reversing fetal alcohol damage in rat pups after birth includes two former undergraduate students as co-authors, Stephanie Wert and Patrick Lim, who just received their degrees in June. Before graduating, they worked with five other undergraduate students in the lab.
Wert and Lim came to the lab as sophomores. With help from Redei and from older students, they learned how to perform lab tests, write scientifically and how to analyze data. They proved to Redei they were capable and committed, working 10 hours a week during the school year and full-time, 40-hour schedules in the summer. As they gained experience, they led independent projects and helped train newcomers.
Peter Civetta, director of the Office of Undergraduate Research at Northwestern, which funds the work of several of Redei's current students, said Redei is "remarkable" for working directly with so many undergraduate students.
"It says a lot about her as a teacher and mentor that she's willing to take on so many people and at such different spectrums," Civetta said. "They're all at different stages in their research careers. One of her students just finished her first year, and other older students are involved in senior thesis projects. That range is a great testament to her leadership."
Wert is finishing a translational study to develop a blood test for depression by analyzing biomarkers in the blood of pregnant and postnatal women. She said she was attracted to this project because depression has affected her life and the lives of her close friends and family. The results of her work with Redei could help diagnose depression and reduce the stigma surrounding it, Wert said. Inspired by Redei's accomplishments, Wert hopes to pursue a doctorate in neuroscience.
Lim is wrapping up a paper this summer about age-related cognition and memory in rats, for which he is first author. His grandmother, who suffered from dementia after she had a stroke, inspired him to take on this 3-year passion project. Lim plans to continue working in Redei's lab for a year before going to medical school.
"Eva really values teaching people and getting to know her undergraduates well," Lim said. "She's like a doting mother. She doesn't doubt us, and she gives us a lot of opportunities to succeed and to understand what research is all about."
Redei said she believes when students have a positive research experience early in their education, those good experiences can strengthen their interest in science, helping them to look at research differently forever.
As they graduate and move on from Redei's lab, many students show their appreciation for their mentor with affectionate, cheeky gifts inspired by the subjects of their research. Redei's office teems with them.
There's a rat in a tiny bridal gown, a wood-carved rat, rat puppets and even a little brass statue of a rat carrying the Indian deity Ganesha. Stuffed animals with beady eyes peek from bookshelves, a weighty figure props the office door open, and Redei uses a small, soft magnet with ears and whiskers to clean her computer screen.
"When students leave, I get a rat," she laughed.
Back to top