Jazz legends Eddie Daniels and Lee Musiker perform Jan. 17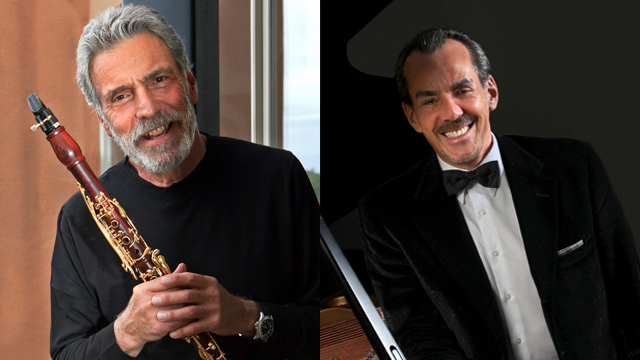 EVANSTON ­– Northwestern University's Henry and Leigh Bienen School of Music presents clarinetist Eddie Daniels and pianist Lee Musiker on Wednesday, Jan. 17, at 7:30 p.m. in the Galvin Recital Hall, 70 Arts Circle Drive, on the Evanston campus. Tickets are $30 for the general public and $10 for students with a valid ID.
Leonard Bernstein once declared, "Eddie Daniels combines elegance and virtuosity in a way that makes me remember Arthur Rubinstein. He is a thoroughly well-bred demon." The five-time Grammy Award nominee was born in New York City and received his master's degree in clarinet from the Julliard School. Daniels first came to the attention of a wider audience through his clarinet solo work with the Thad Jones/Mel Lewis Orchestra on its recording "Live at the Village Vanguard," which earned him Downbeat Magazine's International Critics New Star on Clarinet Award. Equally at home with Mozart and Charlie Parker, Daniels has collaborated with Richard Davis, Freddie Hubbard, Don Patterson, Bucky Pizzarelli and other jazz luminaries.
As a pianist, conductor, arranger and music director, Lee Musiker has shared Grammy and Emmy Awards for his work for symphony orchestras, film and television, collaborating with such artists as Audra McDonald, Renée Fleming, Buddy Rich and Wynton Marsalis. A fourth-generation musician, Musiker received degrees from the Manhattan and Eastman Schools of Music with further studies at the Juilliard School. He has served on the faculties of Mannes School of Music – The New School and New York University. Since 2001, he's toured with Tony Bennett and served as music director and pianist for Bennett's Grammy Award-winning album "Duets: An American Classic" and the recent "Duets II." 
In a unique format allowing for experimentation, the duo performs original compositions and selections from the Great American Songbook.
Eddie Daniels is a Backun Artist, and his appearance is sponsored in part by Backun Musical Services and Eastman Music Company. This performance also is sponsored in part by WDCB 90.9 FM.
For tickets and more information, call the Bienen School of Music Concert Management Office at (847) 467-4000 or visit concertsatbienen.org.
The Bienen School is a member of the Northwestern Arts Circle, which brings together film, humanities, literary arts, music, theater, dance and visual arts.
Back to top