Center on Wrongful Convictions client Raymond McCann II exonerated
Case marks third with Michigan Innocence Clinic, all result in exonerations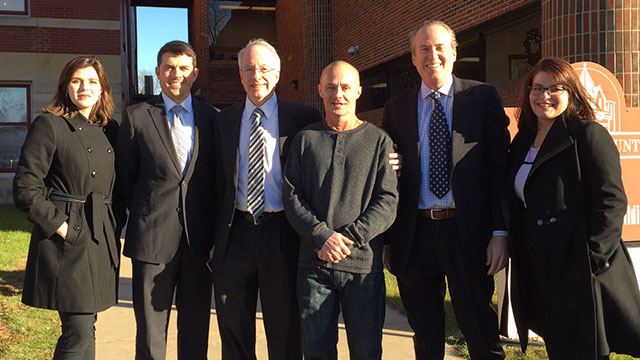 CHICAGO - Christmas came two weeks early for Raymond McCann II when St. Joseph County, Michigan Circuit Court Judge Paul E. Stutesman signed an order today, Dec. 7, granting McCann's motion to vacate his 2012 perjury conviction. The motion was filed by the Center on Wrongful Convictions at Northwestern University's Pritzker School of Law and the Michigan Innocence Clinic at the University of Michigan Law School and was joined by St. Joseph County Prosecutor John McDonough who stipulated that the motion should be granted and the charges dropped. 
"We are grateful to John McDonough," said Gregory Swygert, lead attorney from the Center on Wrongful Convictions team. "Today he acted honorably in placing his duty to seek justice ahead of his desire to preserve a wrongful conviction."
McCann's exoneration marks the end of a nightmare that began on Nov. 8, 2007, when 11-year-old Jodi Parrack was reported missing in the small town of Constantine, Michigan. McCann, a reserve police officer, agreed to help participate in the search. He became a "person of interest" in the case after he was one of several people to suggest searching the local cemetery. Parrack's body was found there a short time later.  
Constantine police officers and detectives from a Michigan State Police task force questioned McCann nearly two dozen times over nearly five years after Parrack's body was discovered. A Michigan State Police detective falsely told McCann they had evidence tying him to the murder, including that McCann's DNA was on Parrack's body and Parrack's DNA was in McCann's truck -- neither of which were true. The detective also lied about McCann to his family and friends in an apparent attempt to turn them against him and get McCann to confess. 
Despite intense pressure, McCann insisted he was innocent.
"Although the tactics failed to coerce Ray into making a false confession, they did succeed at ruining Ray's reputation and destroying his relationships with family and friends," Swygert said. "He lost his job, was estranged from his son and his wife divorced him."
In 2012, the Michigan State Police persuaded the county prosecutor to issue a subpoena to require McCann to testify under oath concerning his whereabouts at the time of Parrack's disappearance. In 2014, the prosecutor charged McCann with perjury during a murder investigation, which carries a life sentence. All of the charges stemmed from minor discrepancies between McCann's recall of the events surrounding Parrack's disappearance five years earlier and the recollections of others.
One of the perjury counts stemmed from McCann's testimony that he had searched for Parrack at the Tumble Dam ruin. McCann said under oath that he had parked at the trailhead and was prepared to search for Parrack there when he got a call and went elsewhere. The Michigan State Police detective testified under oath that video footage from a surveillance camera on a nearby factory proved McCann wasn't there that night.
After spending 11 months in jail awaiting trial and facing a potential life sentence, McCann pled no contest to the count involving the Tumble Dam. He was sentenced to 20 months in prison in 2015.
While McCann was in prison, a man named Daniel Furlong attempted to abduct another young girl in nearby White Pigeon, Michigan. The girl got away and led authorities back to Daniel Furlong, who lived in Constantine at the time of Parrack's murder. He eventually admitted to killing Parrack eight years earlier, and a subsequent DNA test on Furlong matched DNA found on Parrack. Under interrogation, Furlong insisted he did not know McCann and told the authorities that when he learned that McCann had been arrested, he believed that "he was in the clear." 
McCann became "person of interest" in case after helping to find victim's body.
After McCann was paroled from prison, Ken Kolker, a television reporter from WOODTV in Grand Rapids, contacted Steven Drizin, an attorney at Northwestern's Center on Wrongful Convictions, and asked him to evaluate the interrogations of McCann.
"This was one of the worst cases of police tunnel vision I've ever seen," Drizin said. "The detectives were so desperate to solve this case and so blinded by their belief that McCann must have been involved, they ignored powerful evidence pointing to his innocence."
Drizin worked with colleagues Swygert and Megan Crane from the Center on Wrongful Convictions and Northwestern Law students Courtney Cronin and Caroline McMahon and partnered with David Moran, the director of the Michigan Innocence Clinic.  In March of 2016, lawyers and students from both projects launched a re-investigation into the case.  
"The big break in the case came as a result of brilliant work on the part of the Michigan Law students," Swygert said.
The Michigan students established that darkness made it impossible to tell whether McCann's car or any other specific cars were in the area near the Tumble Dam path. A closer look at the video footage also revealed that it could not have captured McCann's car because the cameras were not facing the direction of the path to the Tumble Dam. These discoveries made it clear that the Michigan State Police detective, who had accused McCann of lying, had testified falsely about the video to Prosecutor McDonough.
While elated that his legal nightmare is finally over, McCann is still trying to put the pieces of his life back together. He hopes to work to change the law that led to his wrongful conviction.
"The perjury statute that coerced Ray to plead guilty needs to be changed," Swygert said. "The threat of a life sentence for what could simply be differing recollections is too strong a tool for prosecutors and could lead to further wrongful convictions. Even Judge Stutesman, who accepted the plea and sentenced Ray has said the law is terrible."
McCann's case marks the Center on Wrongful Convictions' third partnership with the Michigan Innocence Clinic, all of which have resulted in exonerations. The other exonerated clients include Jamie Peterson (Kalkaska County) and Davontae Sanford (Wayne County).
Back to top