Northwestern expert on travel health and safety pens guidance in new book
EVANSTON - Julie Friend, Northwestern University's director of Global Safety and Security and deputy Title IX coordinator for Global Activities, was the third person in the United States to work full time on international health and safety for institutional travel when she started in 2007. Today, she is among fewer than 100 people in this rare specialization, and she's used her expertise to author several chapters in a recently published book titled "Crisis Management for Education Abroad."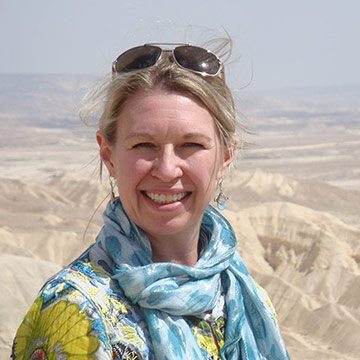 The book, published by NAFSA: Association of International Educators, offers guidance for crisis prevention and management related to university-sponsored travel. Chapters from Friend, who has more than 20 years of experience in international education, review pre-departure preparation, traveler support, resource connection and crisis management.
"There's not a lot of published work in this particular subject matter; it's a new specialty," Friend said. "Students have been traveling abroad for a long time, but crisis management hasn't always been documented, and it also falls within a lot of other specialties. This book draws from the best resources in those communities, and it packages guidance for schools that need to be prepared for anything."
Friend heads the office at Northwestern that supports the health, safety and security of students, faculty and staff who travel abroad under University support or sponsorship. Her team serves around the clock as the first responder for all University-sponsored international travelers.
Friend's book may be useful for members of smaller study abroad offices who can feel overwhelmed or understaffed, said Friend, who saw this firsthand when she worked in the Office for Education Abroad at Michigan State University. These offices might have limited exposure to risk management, but they still need to be prepared for any foreseeable emergency, she said.
The book may also help guide anyone who wants to grow their expertise in the profession or who may be seeking to take on more responsibilities in management and planning.
In the chapters Friend wrote, she focuses on understanding the legal underpinnings of international health and safety and how to apply best practices to help keep travelers as safe as possible.
Friend emphasizes the most important aspect of international health and safety is comprehensive preparation before travelers leave home.
"There are foreseeable incidents, which we can tackle during pre-departure," she said. "We work with students before they leave to identify resources and help them arrange a seamless transition. We have an opportunity to help them achieve that dream of an education-abroad experience." 
Friend, who has traveled to more than 30 countries and has lived in France and Zambia, writes regularly for NAFSA's International Educator magazine about insurance and risk management. She is a member of Pulse: Higher Education International Health and Safety Professionals. She has chaired the NAFSA Education Abroad Knowledge Community Health and Safety Subcommittee and is one of two higher education representatives appointed to the U.S. Department of State's Overseas Security Advisory Council Executive Board.
Back to top