New music theater collaboration soars at Edinburgh Fringe
Northwestern and Royal Conservatoire's 'Atlantic' earns five-star review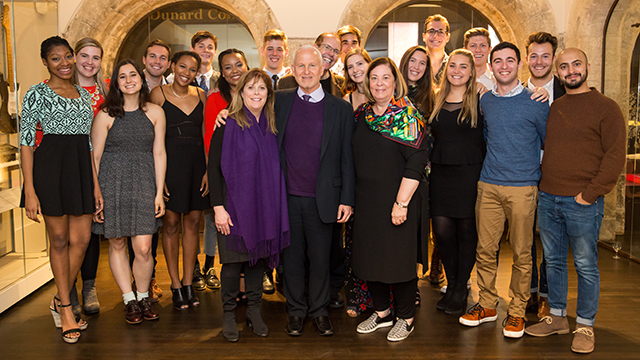 EDINBURGH, SCOTLAND - Northwestern University President Morton Schapiro, his wife Mimi, and School of Communication Dean Barbara O'Keefe were among the international theater-going throng when the curtain rose for the opening of the new musical "Atlantic: America & The Great War" at the storied Edinburgh Festival Fringe.
Each year the Festival showcases more than 3,000 productions in nearly 300 venues.
Standing out in the massive theatrical smorgasbord is no easy feat, but twin musicals "Atlantic: A Scottish Story" and "Atlantic: America & The Great War" managed to top several critics' lists for recommended shows in Festival previews.    
The musical collaboration, which explores home, heritage, identity and adventure, was created by students and alumni of Northwestern's American Music Theatre Project (AMTP) and the Royal Conservatoire of Scotland.
So far, the reviews have been spectacular. Glasgow's Sunday Herald gave the show a rating of five stars and said, "Although both parts work as stand-alone pieces of theatre, it is their connectedness which really resonates and makes the interweaved new writing and music soar."
"The creation of music theater has, like everything else in the 21st century, become a global opportunity," said David H. Bell, the Donald G. Robertson Director in Music Theatre and AMTP artistic director at Northwestern.
Northwestern alumnus Ryan Bernsten, one of the project writers agrees. "Making art with international collaborators exposes you to perspectives that can't help but influence the work…In the same way traveling broadens your horizons, working overseas broadens your artistic horizons and opens you up to other creative processes."  
Theater fans can catch "Atlantic" at the Edinburgh Fringe through Aug. 27.
Back to top