Inspiring young minorities to pursue science
Doctoral student sees herself in young Latinos she mentors in science, particularly girls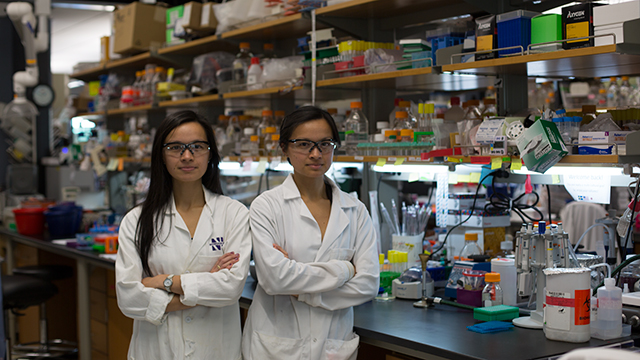 Anne d'Aquino thought she might be a police officer, journalist or nurse, but never a scientist. No one in her family had finished college, let alone entered the field of science.
Today d'Aquino provides the type of mentorship that led to her career in science while she realizes a once unimaginable ambition as a doctoral candidate in biological sciences at Northwestern.
She is treasurer of Jugando con la Ciencia (JCLC), "Playing with Science," a Northwestern volunteer organization that provides afterschool and weekend science education in Spanish to young Latinos. JCLC volunteers present a scientific concept to the students and then facilitate a hands-on experiment.
"I felt like it took so long for me to realize I wanted to be a scientist," d'Aquino said."I don't want kids to wait that long and then feel like it's too late."
In the spring, d'Aquino organized a massive scavenger hunt at Chicago's Museum of Science and Industry (MSI) that featured exhibits of famous female scientists in each wing of the museum. Volunteers from labs and colleges across the city and young women from Evanston to Englewood showed up for the event, numbering 60 mentees altogether.
Only 20 were expected.  
"It just started with an idea, and I contacted people who might be interested," d'Aquino said. "We had graduate students from all over Chicago helping out, and everybody seemed to love it."
D'Aquino is determined to do for others what Heather Pinkett, an associate professor in the department of molecular biosciences at Northwestern, did for her during a summer undergraduate research program in 2013. Pinkett nominated her — despite d'Aquino's doubts about pursuing a postgraduate education — for early admission to Northwestern.
"That was the first time that anybody really convinced me I could get a graduate degree in science," d'Aquino said. "I liked science, but I just wasn't sure about it because my sister and I would be the first ones in our family to finish college. I couldn't even imagine going somewhere beyond that."
D'Aquino and her twin sister, Andrea, started to dream aloud about their ambitions in science as undergraduates at Western Washington University. Several years later, the family is on track to earn two PhDs before the end of the decade. Andrea is pursuing her doctorate in chemistry at Northwestern.
D'Aquino now sees herself and her sister in the young minority girls she is helping to pursue science. The d'Aquino sisters are of Russian, Portuguese, Chinese and Japanese descent, and both of their parents immigrated to America from Hong Kong.
"I didn't have a lot of access to science, and I think any minority who doesn't have access to science is a group that I want to help," d'Aquino said. "They may want to be scientists but need the extra mentorship to convince them they can."
Find out more about d'Aquino's path to Northwestern, involvement in JCLC and thoughts on females in science in the following Q&A.
Q&A
Can you elaborate on how you stumbled into your current studies?    
I think I originally took science courses [at Western Washington] because I was thinking about being a nurse, and you just need to take basic biology and chemistry. I really, really liked those courses, so I was like, "OK, I'll take the next class, and the next class." The next thing I knew, I was declaring something in biochemistry.
You and your twin sister Andrea are both at Northwestern. Who followed whom?
She's following me (laughs).
Andrea, as well as professors at Western Washington and Northwestern's Heather Pinkett, was a major support for you as you considered graduate study in science.
It helped that we had each other. We started talking about graduate work in science because we both started doing summer programs, and we started to realize we could do it. It really felt like I just needed to have a couple of people to have faith in me to go to graduate school.
You had to turn away volunteers from the MSI event. Why such a big turnout?
As far as I know, there hasn't been a program like that, in which you bring in volunteers and students from multiple schools around Chicago. Everybody recognized how urgently we need to get more females in science. It was for a cause we're all really passionate about, and it was a very unique outreach opportunity.
Why is it important to increase the number of women in science?
It sounds cliché, but diversity is so important for science. Everybody has a different perspective, and the way we work is different. We need each other's perspectives to gain new ideas, get things done efficiently and continually improve on how we're thinking about science and conducting experiments. 
Back to top