86th annual Waa-Mu show will celebrate everyday heroes
Tickets on sale now for 'Beyond Belief: a superhero story'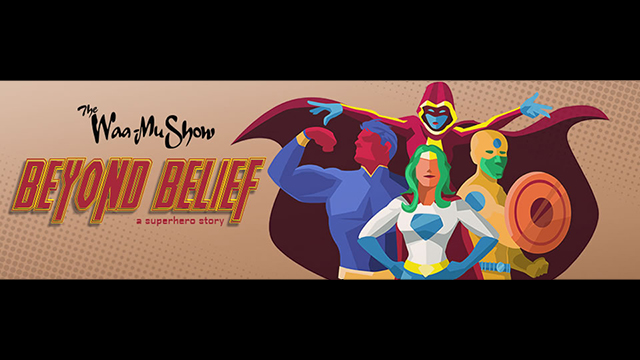 EVANSTON - The Virginia Wadsworth Wirtz Center for the Performing Arts at Northwestern University and the Waa-Mu Show will present "Beyond Belief: a superhero story," an original musical about the transformative power of love.
The 86th annual Waa-Mu Show will run April 28 to May 7 at Cahn Auditorium, 600 Emerson St., on the Evanston campus.
The new stage musical is being written, composed, choreographed and co-produced by more than 100 Northwestern students. Senior undergraduate student co-chairs Jessie Jennison, Charlotte Morris, Eric Peters and Justin Tepper lead the 2017 production under the artistic direction of David H. Bell. Bell is the Donald G. Robertson Director of Music Theatre in the Northwestern School of Communication and an award-winning director with international credits. 
"Beyond Belief" follows two sisters who cope with harsh realities by creating a fantastical world of superheroes. These extraordinary characters, based on ordinary people from their lives, spring to life and demonstrate the resilient power of love. "Beyond Belief" explores what makes each of us "super" and suggests that believing may be the greatest power we have.
"The traditions of Northwestern's Waa-Mu Show are what make it so special," the 2017 co-chairs said in a written statement. "Over the years, ensemble members have sought ways to make the show resonate with its current audience. With this production, we strive to illuminate what is extraordinary about every voice in our community."
Waa-Mu Show History
The Waa-Mu Show began as a joint effort of the University's Women's Athletic Association (W.A.A.) and Men's Union (M.U.) during the 1928-29 academic year. In recent years, Waa-Mu has evolved from a series of musical and theatrical vignettes into an entirely student-written and orchestrated musical. Dubbed "The Greatest College Show in America," by Associated Press, the Waa-Mu Show is a forerunner in the world of musical theater writing, giving undergraduate students a chance to serve as leaders in every aspect of the production's creation, from writing to orchestration to performance.
Past cast members include Walter Kerr in the 1930s; Claude Akins, Sheldon Harnick, Cloris Leachman, Paul Lynde, Charlotte Rae and Tony Randall in the 1940s; Warren Beatty, Penny Fuller and Garry Marshall in the 1950s; Karen Black, Frank Galati, Ann-Margret and Tony Roberts in the 1960s; Laura Innes and Shelley Long in the 1970s; Gregg Edelman, Ana Gasteyer, and Megan Mullally in the 1980s; Zach Braff, Brian d'Arcy James, Heather Headley, Jason Moore and Kate Shindle in the 1990s; and, more recently, Jenny Powers.
Tickets on Sale Now
Tickets to "Beyond Belief: a superhero story" are on sale now, and prices range from $10—$30. Tickets can be purchased on the Wirtz Center website, by phone at 847-491-7282 or at the Wirtz Center box office, located in the Ethel M. Barber Theater, 30 Arts Circle Drive, Evanston.
The Wirtz Center is a member of the Northwestern Arts Circle.
The Arts Circle brings together film, humanities, literary arts, music, theatre, dance and visual arts. Search for events across all artistic disciplines at Northwestern Arts Circle.
Back to top