Winter chamber music festival hosts internationally acclaimed artists
Seven-concert series features treasured classics and compelling new works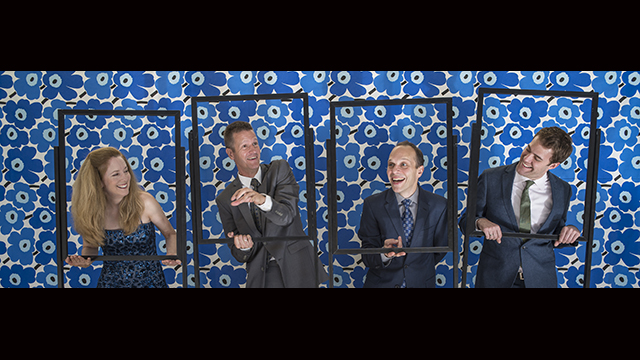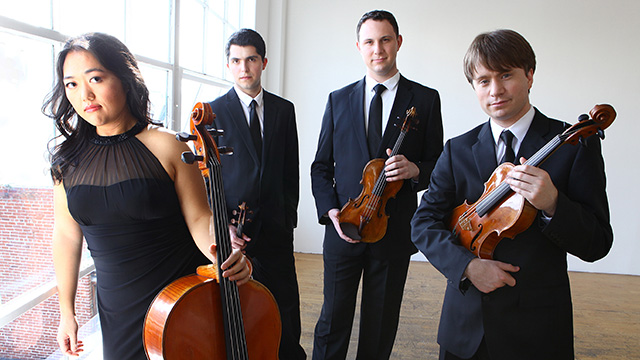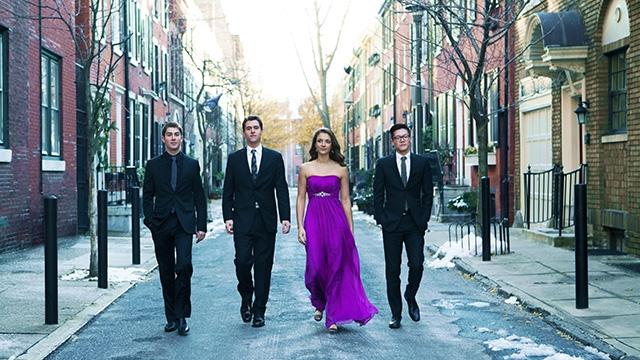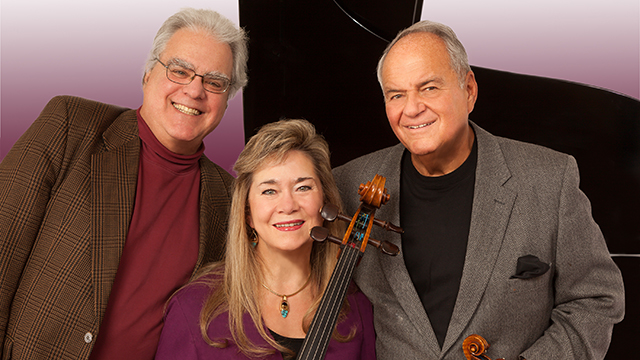 Festival runs Jan. 8–29 at Pick-Staiger Concert Hall
The Dover Quartet returns for second year as Quartet-in-Residence
Kalichstein-Laredo-Robinson Trio and Calidore String Quartet make Bienen debuts
Violinist Simone Lamsma with Andrew Armstrong and Kenneth Olsen to close festival
EVANSTON - Northwestern University's Henry and Leigh Bienen School of Music presents the 2017 Winter Chamber Music Festival Jan. 8-29, featuring seven evenings of classics and new works by internationally acclaimed musicians. All performances begin at 7:30 p.m. and take place at Pick-Staiger Concert Hall, 50 Arts Circle Drive on the Evanston campus.
The 21st annual festival is made possible by the Elizabeth F. Cheney Foundation.
Performances are as follows:
• New Orford String Quartet
Sunday, Jan. 8, 7:30 p.m.
Comprised of the concertmasters and principal cellist and violist of the Montreal, Detroit and Toronto Symphonies, the New Orford String Quartet is the recipient of two Opus Awards for Concert of the Year and a Juno Award nomination. The group regularly tours throughout North America and has collaborated with pianists Marc-André Hamelin and Menahem Pressler. They will perform Claude Debussy's String Quartet in G Minor, Uriel Vanchestein's "Les veuves (The Widows)" and Ludwig van Beethoven's String Quartet No. 12 in E-flat Major.
• Kalichstein-Laredo-Robinson Trio
Friday, Jan. 13, 7:30 p.m.
The Kalichstein-Laredo-Robinson Trio makes its premier Bienen appearance with Ellen Taaffe Zwilich's "Pas de Trois," Dmitri Shostakovich's Piano Trio No. 2 in E Minor and Johannes Brahms's Trio for Piano, Violin and Cello in B Major. Since making its debut at the White House for President Carter's inauguration in 1977, the trio has set the standard for performance of piano-trio literature at many of the world's major concert halls. The group celebrates its 40th anniversary during the 2016-17 season with performances including a reprise of their White House program of Mendelssohn and Schubert, with a specially commissioned work by Pulitzer Prize-winning composer Ellen Taaffe Zwilich.
• Quartet-in-Residence: Dover Quartet
Sunday, Jan. 15, 7:30 p.m.
Since claiming the grand prize and all three special prizes at the 2013 Banff International String Quartet Competition, the Dover Quartet has catapulted to international stardom. The group's 2015-16 schedule, boasting 120 performances, included the first year of its three-year residency at the Bienen School of Music, as well as their Carnegie Hall debut, their first tour of Israel and collaborations with Anthony McGill, David Shifrin, Anne-Marie McDermott, Avi Avital and Edgar Meyer. They will perform Joseph Haydn's String Quartet in D Minor, Bedřich Smetana's String Quartet No. 1 ("From My Life") and Benjamin Britten's String Quartet No. 2 in C Major.
• Calidore String Quartet
Friday, Jan. 20, 7:30 p.m.
The Calidore String Quartet makes its Bienen debut playingW. A.Mozart's String Quartet No. 15 in D Minor, Caroline Shaw's "First Essay" and Robert Schumann's String Quartet No. 3 in A Major. The quartet is the first North American ensemble to win the prestigious Borletti-Buitoni Trust Fellowship. Recipient of the inaugural 2016 M-Prize from the University of Michigan's international chamber arts competition, the quartet has performed throughout North America, Europe and Asia. Highlights of the group's 2015-16 season included their Carnegie Hall debut, performances of the complete Mendelssohn quartet cycle at the East Neuk Festival and performances of the Mendelssohn Octet with the Emerson Quartet at Princeton and Stonybrook universities.
• Bienen School Faculty and Guest Artists
Sunday, Jan. 22, 7:30 p.m.
Bienen School faculty and guest artists come together for a program featuring Ludwig van Beethoven's Clarinet Trio in B-Flat Major ("Gassenhauer"); John Harbison's "Twilight Music" for piano, horn and violin; Gabriel Fauré's Piano Trio in D Minor; and W. A. Mozart's Divertimento in E-flat Major. Performers include violinist Gerardo Ribeiro, violist Helen Callus, cellist Stephen Balderston, pianists James Giles and Andrea Swan, clarinetist Steven Cohen and hornist Gail Williams.
• St. Lawrence String Quartet
Friday, Jan. 27, 7:30 p.m.
The quartet performs Joseph Haydn's String Quartet No. 23 in F Minor, Jonathan Berger's String Quartet ("Swallow") and Felix Mendelssohn's String Quartet No. 4 in E Minor. The St. Lawrence String Quartet maintains a commitment to established quartet repertoire while championing new works by such composers as John Adams, Osvaldo Golijov, Ezequiel Viñao and Jonathan Berger. Highlights of the quartet's 2015-16 season included performances at the Caramoor Center for Music and the Arts, Carnegie Hall, the 92nd Street Y and Spoleto Festival USA. Their 2016-17 season includes appearances with the Los Angeles Philharmonic and the Baltimore Symphony, tours of Italy, Paris and London and the European premiere of John Adams's Second Quartet in the Netherlands.
• Simone Lamsma with Andrew Armstrong and Kenneth Olsen
Sunday, Jan. 29, 7:30 p.m.
Violinist Simone Lamsma, cellist Kenneth Olsen and pianist Andrew Armstrong conclude the 2017 Festival. Lamsma is the winner of the national Dutch VCSD Classical Music Prize. Highlights of her 2016-17 season include debuts with the National Symphony Orchestra of Washington, National Arts Centre Orchestra Ottawa, Vancouver Symphony, BBC National Orchestra of Wales, RTE and Iceland Symphony. Olsen is a founding member of the East Coast Chamber Orchestra and has served as assistant principal cello with the Chicago Symphony Orchestra since 2005. Armstrong's performances throughout the world have included engagements at Alice Tully Hall, Carnegie Hall, the Kennedy Center, the Grand Hall of the Moscow Conservatory and Warsaw's National Philharmonic. The program includes Franz Schubert's Violin Sonatina No. 1 in D Major, Sergei Prokofiev's Sonata No. 1 in F Minor and Peter Ilyich Tchaikovsky's Piano Trio in A Minor.
Single tickets are $30 for the general public and $10 for students with a valid ID. Tickets are available on the Concerts@Bienen website, by phone at 847-467-4000 or by visiting the Pick-Staiger box office at 50 Arts Circle Drive on the Evanston campus.
Full and partial series subscriptions are available and include a variety of benefits. For more information, call the Bienen School of Music Concert Management Office at 847-491-5441 or visit the Concerts@Bienen website.
The Bienen School is a member of the Northwestern Arts Circle.  
Back to top