Senior brings lessons from Uganda to campus
Michael Hopkins teaches basics of music composition to young men in Chicago detention center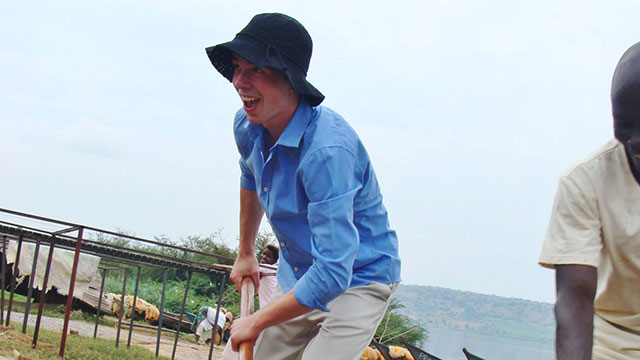 Michael Hopkins finally found an outlet for his newly-awakened passion for social justice.
Hopkins, who is in the final year of a five-year dual degree in music and engineering, became a volunteer in Arts and Music Programs for Education in Detention Centers (AMPED) last year.
Student-volunteers in the mentorship program, which is offered through Northwestern University's Center for Civic Engagement, teach the basics of music composition and GarageBand techniques to young men one on one at the Cook County Juvenile Temporary Detention Center. It is the perfect outlet for Hopkins, a talented percussionist.
"What's so cool about this is we're composing with them, and they make beats and raps," Hopkins said. "I think some of them are for the first time expressing things they've been thinking about for years and can finally say in a safe space. A lot of the lyrics are extremely poignant, where you think, 'Oh my God, that's what your life is like?'"
Hopkins' world view shifted dramatically during a Global Engagement Studies Institute program in Uganda the summer preceding his junior year. Working alongside other Northwestern students on a service project in a small Ugandan village, the Raleigh, North Carolina, native built meaningful relationships with people living in abject poverty.
"I had a really hard time transitioning back. It was reverse culture shock, big time," he said. "I felt a lot of guilt practicing music, because I thought, 'Why practice music when people are starving?' It felt like my personality was splitting in half — the values I developed in Uganda didn't match my lifestyle in the U.S. It was really intense." 
Hopkins is now in his second year with AMPED, working through a paid fellowship to oversee other student-volunteers. Working with young men in Chicago, many of whom were also raised in poverty, has furthered his growing awareness of societal structures that lead to injustice and inequality.
"The idea that people in poverty are in bad situations because they choose to be is just so preposterous to me now," Hopkins said.
Learn more about Hopkins in the following Q & A, including more details about his experiences in Uganda and with AMPED, as well as his plans for life after Northwestern.
You and fellow Northwestern students arrived in Uganda without knowing what the project would be. How did you go about creating something based on the villagers' needs?
We ended up building a solar fish-drying unit. The community I was in was a really poor fishing village; fish was the main source of income. They would catch fish and just dry them on the ground. So if it rained, everything was spoiled. It was hurting them health-wise and economically. We researched solar fish-drying designs and partnered with a mason from the village to build it using local materials and construction techniques. Then, the idea was spread by a community leader to other villages in the area. We're basically introducing this new technology so they could perfect it and spread the idea.
You said AMPED allowed you to combine your passions for music and social justice. What else has it done for you?
I think the main thing is that it gives me so much perspective. My views have changed a lot about how the world works.


Hopkins performs a xylophone solo during a Northwestern University Percussion Ensemble concert in February at Pick-Staiger Concert Hall.
--
The residents are in the juvenile detention center because their crimes were so serious they were tried as adults. Is it hard to separate the crime from the person?
Definitely. It still is. Again, it is the idea that this person did this terrible thing, but is he really such a bad person? Was it situational? Would I have done the same thing in that situation?
If you're only taught to express emotion via violence your entire life, and you have no family structure – there are so many factors that could potentially impact their actions — I think we have some sort of duty as a society to challenge the systems that perpetuate the pattern of young men ending up in prison for years.
You mentioned one resident in particular, named Oscar, who wrote a love song.
It was so interesting because everything he was expressing was exactly what any normal 17-year-old would be feeling after a first breakup with a girlfriend. It made me think, "This person is so intensely human and should not be thrown away by society." The idea that this person I know so well could potentially go to jail for 50 years is heartbreaking.
Why Northwestern?
In high school I was really into music, and I was also taking a lot of physics and calculus-type classes. It was this existential crisis in which I couldn't decide what to do. For college I applied to places for just engineering and for just music, and then a few in the middle that did both. In the end, I was impressed with Northwestern all the way.
Though you're thinking about graduate school in architecture, you have decided to first pursue music professionally and have been auditioning at graduate music schools and professional orchestras. Why?
It's sort of like the sports analogy: When you have a shot out of college, you have to take it. I can always come back to engineering or architecture, but with music I have this limited time to try it. That's my logic.
Back to top