Analytics guru Nate Silver shares World Series prediction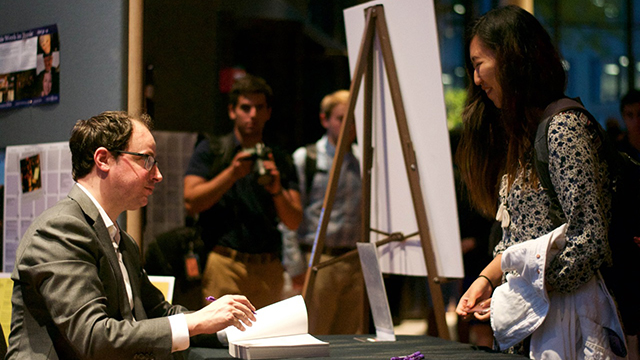 EVANSTON - Analytics guru and political prognosticator Nate Silver touched upon predictions related to the election, of course, the Cubs and monster Hurricane Matthew that was headed toward the Florida coast as he addressed a sold-out crowd of approximately 1,000 people at Northwestern's Pick Staiger Concert Hall on Thursday, Oct. 6.
As of that moment in time, his predictive analytics, unfortunately, had the Cubs losing the World Series.  While urging caution because of the volatile dynamics and variables involved in political prognosticating, Silver predicted that the Democrats are likely to win a majority of seats in the U.S. Senate.  
Silver, the author of this year's One Book One Northwestern selection, "The Signal and the Noise: Why Most Predictions Fail — But Some Don't," is the founder of FiveThirtyEight.com  – which correctly predicted the winner of the presidential contests in 49 of 50 states in 2008 and called the correct winner in all 50 states in 2012.
In his address, the master number cruncher of modern day life, ran through a litany of topics to illustrate the complexity of predictive data science, pointing to its great successes and monumental failures.
Silver was on the same page with the majority of Northwestern students, faculty and staff – almost 500 – who, through NUpredicts, predicted that the Cubs will not win the World Series and that the Democrats will win a majority of seats in the U.S. Senate.
But political prognosticating, he said, is particularly difficult, especially when it comes to this year's highly volatile presidential race between Hillary Clinton and Donald Trump.  
"If we were talking a year ago, I might have told you, 'Oh, Trump might be leading in the polls ... but we know candidates with his profile don't win the nomination," Silver said. "I would have said that with a high degree of confidence, and I would have been very wrong."
In the general election race between Clinton and Trump, Silver said even the most reliable polling data is little like playing poker.
"There's just enough signal and there's just enough noise for there to be a million different ways to interpret the data," he added.
In his the keynote address, Silver touched on many areas he discussed in his book.
Data, Silver said, is of little use without human insight and experience.
According to Silver, 90 percent of the world's data has been created in the past two years.  "Maybe only .009 percent of it is useful data," he said, adding that much work remains to ease the "tension" between the vast amounts of data and our limited ability to use the data to solve problems. 
With Hurricane Matthew moving toward Florida, he talked about hurricane forecasting as a success story of predictive science – one that has greatly reduced the loss of life.
He also discussed areas where predictions have fallen short, including the forecasting of terrorism, earthquakes and the housing crisis.
Silver praised Northwestern for prioritizing data science and encouraged students to pursue the skills that will enable them to think "probabilistically."
He also stressed the importance of cultivating diversity in the business of analytics by supporting women and minorities in a field that has historically been dominated by white men.
The panel of judges selected Victoria Wu's essay, "The Silence of the Hedgehog," as this year's One Book One Northwestern essay contest winner. Victoria received $500 and a One Book One Northwestern T-shirt.
Back to top