Nikita Patel is a musician on a mission
Senior balances work in the arts, philanthropy and class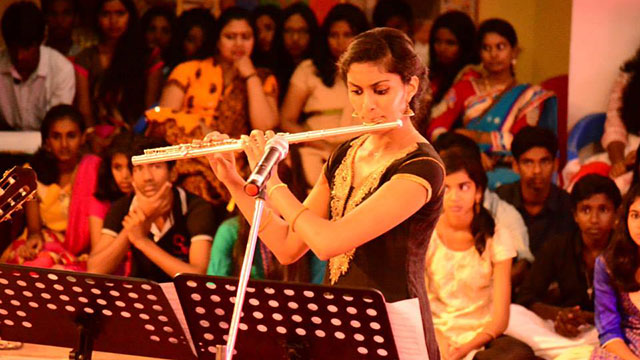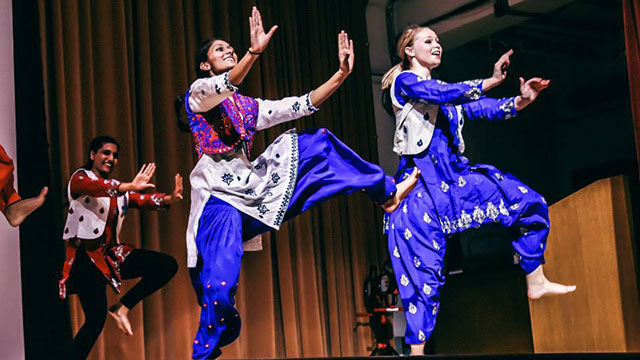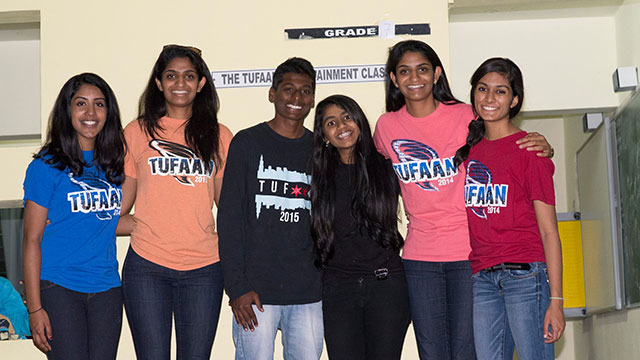 Giving back was already a serious way of life for Nikita Patel, now a senior at Northwestern, by the time she arrived here.
A competitive dancer who also plays the flute at a high level, Patel in high school founded her own nonprofit, Simple Gifts, which provides low-income students with refurbished musical instruments. 
She also spent the summer after her junior year at Northwestern in India, teaching impoverished children dance, computer science, civics and history.
Soon after arriving on campus, Patel became heavily involved with Tufaan Entertainment, a student philanthropic organization that promotes arts education abroad and raises awareness of South Asian culture in the United States. She later became an active volunteer for Students Consulting for Non-Profit Organizations (SCNO).
Patel relied on a fierce can-do spirit and the generosity of others to obtain refurbished instruments for Simple Gifts. In 2014, she gave out her first instrument, a trumpet, to Eduardo Ponce, then a high school student at KIPP Generations Collegiate in suburban Houston. The selection process she designed is competitive so students who receive instruments feel as if they have earned them. 
"What we look for in a student is not necessarily musical talent, but the drive to want to learn music," Patel said. 
Ponce was just the type of student Patel was looking for: self-sufficient and driven, but lacking resources to succeed.
"It's a lengthy application process, and Eduardo, whose parents don't speak English, didn't have much band director or parental support," Patel said. "He did it himself, and it was honestly amazing." 
Nikita Patel (left) poses with Eduardo Ponce (middle), Ponce's mother and two sisters and Ponce's high school band director (right). (Courtesy Niki Patel)
---
As co-president of Tufaan last year, Patel was central to the philanthropic group's annual fundraising dance competition in March. All proceeds were donated to Shanti Bhavan Children's Project, a school in rural India that provides first-class education to children marginalized by the caste system and where Patel taught during summer 2015.
"You would never guess what these kids have been through," she said. "They're smart, and they have a lot of potential. They just need the resources to develop."
Patel has been a competitive dancer all four years at Northwestern. She participated in a Bollywood-style team her freshman year and Northwestern Bhangra, which performs traditional folk dance from Northern India, the past three years. This quarter, she successfully auditioned for Northwestern Philharmonia, the University's competitive non-major orchestra. And in the four years since she founded Simple Gifts, she has stockpiled more than 20 instruments.
So how in the world does Patel do it all?
Anisha Ghosh, who served as co-president of Tufaan with Patel and has known her for three years, said the answer is quite simple. 
"It's never really work to her," Ghosh said. "Yeah, it does get really stressful balancing her life, between Tufaan, dance and computer science classes. But she genuinely likes what she is doing and puts 100 percent into it all."

Propensity to help others evident at a young age
The concept of Simple Gifts was born while Patel was tagging along with her role model, Rosane O'Connor, who taught Patel music from kindergarten through 12th grade.
When Patel was a high school student working with O'Connor at Project Row House's after-school program for underprivileged youth in Houston, she got a firsthand glimpse of her mentor's concerns about students not being able to afford their own musical instruments.
"Niki immediately set about finding a solution," O'Connor said. 
Patel used the money she earned from teaching private flute lessons to jumpstart the refurbishment of used instruments. 
"I was a high school student and didn't really need the money," Patel said. "And I wanted others to be able experience music in the same way it has impacted me." 
Patel's maturity was striking to O'Connor. 
"I remember when she was in high school, unlike other students, Niki would always want two-hour lessons or longer. She was tireless," O'Connor said. "She was not only dedicated to music, but also to helping others."
Things moved slowly at first with Simple Gifts. Newspapers initially rejected Patel's request to run advertisements, so she pleaded with various school band programs around the community to donate used instruments. 
Her persistence paid off when the local newspaper, The Courier of Montgomery County, ran a story about Patel and Simple Gifts in January 2013.  The Houston Chronicle followed suit in October 2014. 
The newfound publicity resulted in donated instruments "just flooding in," Patel said. 

She's a real 'do-it-yourselfer' 
Following the initial success of Simple Gifts, part two — fixing the instruments — proved even more challenging. She brought the old instruments to repair shops and asked for a discount because of the good cause. 
Like the newspapers, the shops also said no. But a determined Patel once again put her creativity and dedication into play, working in repair shops herself to refurbish instruments.   
"One of the reasons I do what I do is because a complete music education requires so much more support than just from the educator," said Patel, "and that's what Simple Gifts does — it works to support everything around the educator."

Dancing, fundraising and teaching children in India
In the summer of 2015, Patel expanded her philanthropic work to benefit children in India as a volunteer at Shanti Bhavan. She taught computer and dance classes to third- and fifth-graders, and courses in computer science and Indian history and civics to seventh- and eighth-graders. 
Patel teaches a partner dance at Shanti Bhavan in 2015. (Courtesy Niki Patel)
---
Patel was struck by the contrast between the poor villages where the children lived and Shanti Bhavan, which brimmed with possibility. 
Ghosh said Patel was "super determined" that Tufaan would reach the $20,000 fundraising benchmark during the end of winter quarter in 2015, a hectic time that included final exams and last-minute preparations for the organization's massive annual dance competition. 
"She really brought us back to our goal," said Ghosh, "because with finals happening, we kind of forgot what our actual goal was."
Patel was rewarded for her determination in July 2015, when, in recognition of Tufaan's fundraising efforts, Shanti Bhavan dedicated a new seventh-grade classroom as the "Tufaan Entertainment Room."

What's next?
Patel, like many 20-year-olds, is still figuring out her future. She may work for a nonprofit one day, she said. Meanwhile, Patel plans to recruit Northwestern music students to create a local branch of Simple Gifts to carry on her mission beyond her tenure at Northwestern. She later will form a junior board of high school students from Evanston high schools who want to learn about nonprofits and support the organization.
She also hopes to expand Simple Gifts internationally, to areas of Southeast Asia or Africa, during a "gap year" after she graduates.  
Her computer science degree fits well with her goals.  
"There's a really cool intersection between international development, education and technology, and how you can bring technology to classrooms that are low-resourced or suffer from low-connectivity," she said. "I think that would be a really cool area to explore."
Teaching at Shanti Bhavan exposed Patel to extreme poverty and the power education has to lift children out of it. Similarly, visiting Houston's Project Row houses showed her what talented inner-city youth can do when given the requisite support.
No matter what she does, Patel will undoubtedly continue to act on her strong impulse to give back.  
"In the grand scheme of things, music has shaped me for who I am," Patel said. "It has taught me so much more than just how to play the flute. The only reason I was able to learn those things is because of the people who pushed me, the people who supported me, the people who handed me an instrument. I know all the states are making cuts in the music and arts areas, and I hate it.
"I think students that can't afford to get an instrument or don't have the motivation to stick with it all the way through their senior year are missing out," she said. "And if they want it, I will help them."  
Back to top