Transforming playmakers into dealmakers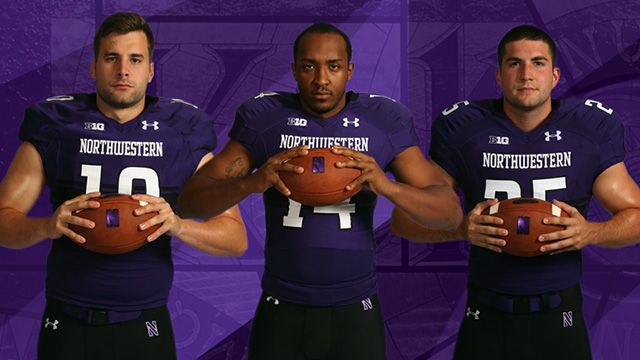 The fall quarter has been a busy one for Christian Jones, Zack Oliver, and Luke Dauch. The three fifth-year seniors battle as brothers together on the football field. Now they also have each other's backs in the classroom – even a virtual one.
Starting wide receiver Jones, backup quarterback Oliver, and baseball star/wide receiver walk-on Dauch are each enrolled in Kellogg's Masters of Science in Management Studies. Each has an eye on Wall Street in the future.
"It's an accelerated Masters program," Dauch says. "Pretty much the first year of an MBA," according to Oliver. "I wanted something where you have something you can actually lean on when you finish playing," explains Jones.
Pursuing the unusually rigorous program has involved a lot of flexibility in the part of the coaches and teammates.
When the football team's preseason camp in Kenosha, WI, threatened to keep them from the start of classes in downtown Chicago, the three would go into a room together to go online and live-stream their classes on a big screen.
"Because the students didn't realize we had the capability to answer a question," laughs Oliver, "when Christian talked over the mic when we were in Kenosha, they thought it was a ghost talking." After speaking up for the first time from off-site, "it was fun," Jones says. "I liked speaking over the little microphone and freaking people out.
On the team itself, "they've all been very encouraging," Dauch says. "If we ever need to leave, just like in Kenosha, they let us leave practice early, if we have to come late they understood."
The same is true for the academic side. "Just as supportive as the coaches and players have been, the students at Kellogg have been very supportive of us," Oliver adds. "I've had conference calls with groups, called in with professors, [used] email, and a lot of Google Docs we can share together," Dauch says.
The program encourages a "different way of thinking and I'm really enjoying it," offers Jones.
One specific Leadership in Business class "really applied to football," says Oliver. "We talked a lot about motivations, negotiations ... the way the brain works and the way people react. Being able to utilize those on an every day basis at football has been really nice."
All three are looking to parlay their degrees into careers in private equity or hedge fund management after their athletics careers finish — learning to hustle on and off the field to help themselves become the real Wildcats of Wall Street.
Back to top