Saving lives by saving food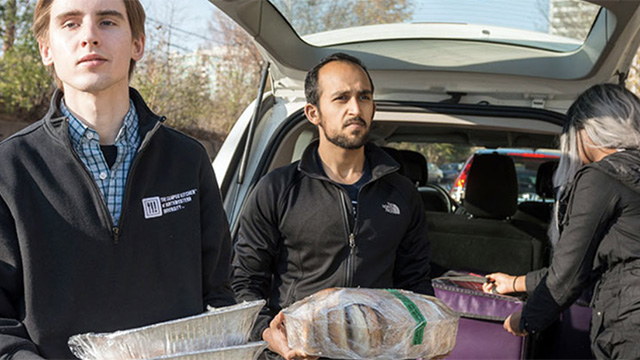 Every year the Campus Kitchen at Northwestern University (CKNU) calls its Thanksgiving event TurkeyPalooza. This year, while it will technically be a ChickenPalooza here, it's the meal that matters to those in need.
Founded in 2001, the project is part of The Campus Kitchens Project — a national organization with programs at almost 50 schools across the country. "We are student-powered hunger relief," explains CKNU Program Coordinator Samantha Warren. "We use student volunteers and community volunteers to use recovered food that would normally go to waste, from on-campus dining halls and surrounding restaurants, to feed those in need in the community."
The program delivers to both low-income individual clients and eight different community organizations that then distribute the meals. "We primarily get our food from the Northwestern Sodexo dining halls," says Warren, "and this year it looks like we will produce close to 40,000 meals." The food "recovered" by student volunteers from dining halls is simply any extra food not served during the previous meal, according to Warren. The volunteers intercept that untouched food, keeping it all from ending up in the garbage.
Such a large-scale effort requires many partnerships and volunteers. But "students do the rescuing of the food," explains Jing Lee, a junior and the VP of CKNU. "We do the food safety, pack the food, deliver the food – it's all run by students."
Thanksgiving is naturally a special time for the organization. "At Northwestern," says Warren, "we actually make Thanksgiving-style meals for all of our clients from scratch."
It's a massive undertaking. "TurkeyPalooza shifts are not like our normal shifts because it's done in huge bulk," Lee says. "This year we're doing chickens, not turkeys, so that will be slightly easier."
Whatever the main course, the preparation is intense. The weekend before Thanksgiving volunteers spend a full day cooking. "Some of what we get is donated from community food drives," says Warren, "some is from the Greater Chicago Food Depository, and then we are a recipient of some of the 'Points For a Purpose' funds every quarter. And some of it is recovered food that's carefully kept frozen."
When it comes time to prepare the meals, many hands participate. This year fifteen volunteers will help during every shift. "I'm helping out with two of the cooking shifts this year," says Paige Ottmar, a senior and the President of CKNU. "We just take over the Hinman kitchen. And we give everything for a four-person Thanksgiving dinner." One volunteer is a very special professional. Chef Greg Campbell, the Pastry Executive Chef for Sodexo, donates delicacies and "helps us make desserts," says Ottmar. "He's very enthusiastic about helping out."
Once the chaos of preparation passes, "we'll package all of that up Monday night and it will get delivered Tuesday," says Warren, "so everyone will have everything they need for Thanksgiving."
It may not be glamorous work, but the impact is immediate and rewarding for all the volunteers. "When I look at all the meals we've created and how nice they look," says Lee, "they're meals I would be honored to eat myself. It's really good food. That's very satisfying."
Back to top