SummerStage musical tackles the life of legendary football coach Knute Rockne
American Music Theatre Project also announces new Johnny Mercer Songwriters Project cohort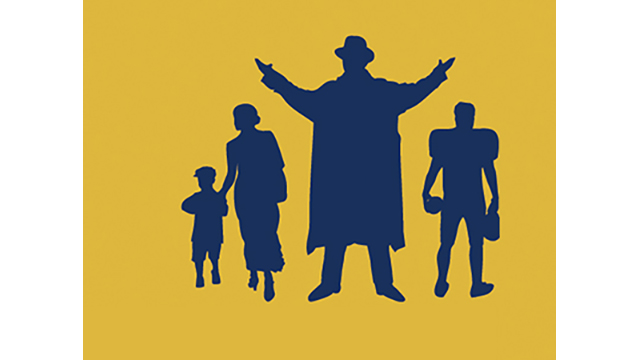 AMTP and Wirtz Center team up with Broadway producers Girardi and Schaffert
'Something in the Game' will receive a developmental production July 20 to Aug. 5
'Songwriters in Concert' June 30 showcases emerging professional songwriters
EVANSTON - Northwestern University's strengths in music theater development will be celebrated over the summer when 14 of the nation's most promising songwriters perform in concert and a new musical inspired by the life of legendary Notre Dame football coach Knute Rockne receives a full production with a cast of 23 professional and student actors.
American Music Theatre Project (AMTP) and the Wirtz Center for the Performing Arts at Northwestern University announce the 2018 SummerStage season including the Johnny Mercer Foundation's "Songwriters in Concert", June 30 at 8 p.m. followed by the Chicago premiere of "Something in the Game: An All-American Musical" produced by special arrangement with Coaches, LLC, John Girardi and Greg Schaffert, July 20 to Aug. 5.
Tickets for both events are on sale online now and will be available for box office and phone orders beginning May 15. More information is available on the Wirtz Center website.
The Wirtz Center 2018 SummerStage season is as follows:
"Something in the Game: An All-American Musical"
Book by Buddy Farmer
Music by Michael Mahler
Lyrics by David H. Bell and Michael Mahler
Directed and choreographed by David H. Bell 
July 20 to Aug. 5
Josephine Louis Theatre
20 Arts Circle Drive
Tickets $5 - $50
Knute Rockne is regarded as one of the greatest football coaches of all time, with more than 100 victories and five undefeated seasons. But as he chased fame and glory for his Fighting Irish, he left his family waiting on the sidelines. The musical traces one man's journey to discover what is most important in the "game of life."
"Something in the Game" features a book by Buddy Farmer, music by Michael Mahler and lyrics by David H. Bell and Mahler. The production is directed and choreographed by Jeff Award-winning director David H. Bell, the Donald G. Robertson Director of Music Theater at Northwestern.
The project originated in 2008 with a Jeff-nominated production at Indiana's Theatre at the Center under the title "Knute Rockne All-American." Farmer, Bell and Mahler continued to develop the piece and, in 2016, AMTP presented a reading of the musical at Northwestern and the University of Notre Dame. After the latest round of revisions, producers Schaffert and Girardi felt the piece should be fully realized, which led to the Summerstage production at Northwestern. 
AMTP producing director Brannon Bowers said, "This production exemplifies the great strides new musicals can take when developed at the American Music Theatre Project. From the initial workshops at Northwestern and Notre Dame, to a developmental production during the Summerstage season, Northwestern students have been integral in the show's development, providing a fresh voice for this universal story.
"True to AMTP's longstanding mission, the production will bridge the professional and educational worlds and deliver a unique theatrical experience not only for our students, but for the audience as well," said Bowers.
"Once I heard a few of the demos and saw the video clips, I knew that this is a work that more people have to see," producer Schaffert said. "The title song, 'Something in the Game' says it all.  It's what made me embark on this journey, and our goal is to get this musical to the people."
"This story about America's legendary Notre Dame coach is worth telling," Bell said. "We all lose our way, or have our values challenged or question the very foundations of our life, but there is something in the game of football -- an all-American embrace of hard work and fair play -- that can remind us what we believe in, help us regain our footing and rediscover ourselves."
"Something in the Game: An All-American Musical" performances are 7:30 p.m. on Thursdays through Saturdays and 2 p.m. on Sundays. Saturday matinees at 2 p.m. will be presented July 28 and Aug. 4.
Preview tickets for the Friday, July 20, 7:30 performance are $20 for general public and $5 for students. Regular run tickets are $35 for the general public; $30 for seniors (62+) and area educators; $27 for Northwestern University faculty, staff and emeriti; and $10 for children and full-time students. Premium seats located in the fourth-row center section are available for $50.   
Songwriters Linda Kiraly & Kata Kozma perform with the 2016 Johnny Mercer  Foundation Songwriters cohort. Photo by Justin Barbin. 
13th annual Johnny Mercer Foundation Songwriters in Concert
Saturday, June 30, 8 p.m.
Ethel M. Barber Theater
30 Arts Circle Drive
Tickets $10 - $30
The 13th annual Johnny Mercer Foundation Songwriters Project participants will take residency at Northwestern University from June 24 to 30 for an intensive week-long program of master classes and workshops that will culminate with a public concert.
Chosen from a record-breaking competitive pool of 170 applicants from across the globe, the 14 emerging professional songwriters will spend the week with returning Tony and Grammy Award-nominated master teachers Stephen Bray, Craig Carnelia, Andrew Lippa and Shelly Peiken.
The 2018 Songwriters Project participants, who range in age from 20 to 30, are Hana Bajric, Daphne Gampel, Benji Goldsmith, Morgan Hollingsworth, Julian Hornik, Khiyon Hursey, Sage Melcher, Adam Melchor, Ibn Orator, Chris Peters, Jenni Rudolph and the songwriting trio Bandits on the Run, comprised of Adrian Enscoe, Sydney Shepherd and Regina Strayhorn. Program costs, housing and travel for participants are generously underwritten by The Johnny Mercer Foundation.
"This cohort is one of the most diverse group of songwriters the project has seen, representing many different genres of music and coming from incredibly varied musical backgrounds and education. We look forward to seeing the unique perspectives these artists bring to the project," said Bowers.
The "Songwriters in Concert" event, a public showcase of the songwriters' new work, will take place Saturday, June 30 at 8 p.m. at the Ethel M. Barber Theater, 30 Arts Circle Drive on the Evanston campus. Single tickets are available for $10 - $30.
Online tickets available now
Tickets for "Songwriters in Concert" and "Something in the Game" are available now on the Wirtz Center website. Phone and walk up orders are available beginning May 15 at 847-491-7282 or at the Wirtz Center box office located in the Barber Theater lobby, 30 Arts Circle Drive on the Evanston campus.    
Box office hours are Tuesdays through Fridays from 10 a.m. to 5 p.m. and Saturdays from noon to 4 p.m. The Box Office is closed Sundays and Mondays. 
The Wirtz Center is a member of the Northwestern Arts Circle, which brings together film, humanities, literary arts, music, theater, dance and visual arts. 
Back to top