Northwestern CERT program to enhance emergency preparedness offers new training
Volunteers from the University, Evanston community, urged to apply for April training sessions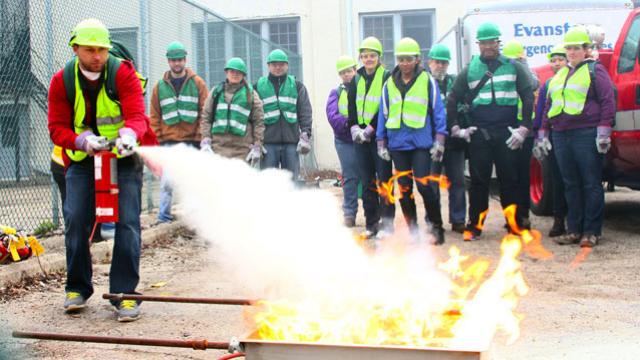 EVANSTON - Now in its fifth year, Northwestern University's program to bolster emergency preparedness and local security with the help of community volunteers continues to expand its ranks and is offering new training sessions in April.
The Community Emergency Response Team (CERT) program for volunteers working at Northwestern and in Evanston is designed to enhance its commitment to the safety of its students, faculty, staff and visitors.
Volunteers are invited to train in the program, which was started at Northwestern in 2014 as a partnership between the University's department of safety and security, emergency management and the Evanston Fire Department.
The City of Evanston and the Evanston Fire Department have been collaborating on this program with Northwestern and conducting the training together for the benefit of the Evanston and University communities.
The City of Evanston has a CERT program, as well. If a significant incident were to occur in Evanston or on the Northwestern campus, both the City's and the University's teams could be activated, if necessary.
"CERT programs operate within the community like good Samaritans to provide support to first responders," said Greg Klaiber, director of emergency management with Northwestern's Department of Safety and Security. "These volunteers are not meant to replace the University's emergency response operations, but rather to serve as an important supplement to them."
The CERT program is a volunteer opportunity and training program for community members to help support preparedness activities, community welfare during major special events and organized community recovery efforts following a crisis.
Volunteer CERT participants receive training in basic disaster response skills, such as fire safety and suppression, light search and rescue, disaster psychology and team organization, active shooter and extreme violence awareness, CPR and disaster preparedness. Instructors are skilled and experienced members of the first responder and emergency management professions.
"Across the nation, CERT programs have been created to enhance emergency preparedness and increase community education, awareness and outreach," Klaiber noted. "States, counties and local jurisdictions, including Evanston, have developed and implemented CERT as an effective means of helping law enforcement, fire departments and emergency medical services."
CERT is a national community preparedness program operated under the Federal Emergency Management Agency (FEMA) and the U.S. Department of Homeland Security's Citizen Corps Council.
The CERT program is a way to involve students, faculty and staff in serving the community and increasing the preparedness of individuals at Northwestern. CERT is designed to improve readiness and help the community through education, training and volunteer service.
CERT program members receive an initial 20 hours of training in basic disaster and emergency response skills from experienced instructors in the first responder and emergency management professions. Members of a CERT program are initially trained in:
Disaster preparedness
Disaster fire suppression
Disaster medical operations
Light search and rescue operations
Disaster psychology and team organization
Terrorism and the CERT program
Disaster exercises, drills and simulations
Principles of the incident command and management
CPR and AED (automated external defibrillator ) lifesaving skills
Extreme violence and active shooter awareness
The new class is offered to any faculty, staff or student with the University—as well as members of the community--and will be limited to 20 participants. Registration will close the last week of March. Classes are scheduled for the following dates and times on the Evanston campus:
April 5 - 5 to 9 p.m.
April 12 - 5 to 9 p.m.
April 19 - 5 to 9 p.m.
April 26 - 5 to 9 p.m.
May 3 - 5 to 9 p.m.
CERT was originally developed and implemented by the Los Angeles Fire Department in 1985. FEMA recognized the importance of the program and adopted and expanded the CERT program and materials to cover all hazards, from natural disasters to terrorist attacks.
For more information on upcoming CERT training dates or registering for upcoming classes, contact Joseph Frascati, emergency preparedness manager with Northwestern's department of safety and security, emergency management, at 847-467-3065 or joe@northwestern.edu.
Register for the April CERT training course by completing and submitting the CERT course registration form and the CERT Hold Harmless Waiver and Permission Form. 
The City of Evanston sponsors a nine-month CERT training class. The course will benefit any citizen who takes it. This individual will be better prepared to respond to and cope with the aftermath of a disaster. The most recent class was completed in February 2018. For information about a class to be held in spring 2018, please contact Dwight Hohl at dhohl@cityofevanston.org or 847-866-2999. For general information on the City of Evanston's CERT program, click here.
In the event of a serious man-made or natural disaster, the City's Office of Emergency Preparedness will activate the Emergency Operations Center and call upon special teams made up of responders from the city's emergency field support services that include emergency communications volunteers and CERT members.
For more information on Northwestern's CERT program, click here.
Visit the Federal Emergency Management Agency for additional information on CERT.
Back to top