Northwestern campus is summer central for family fun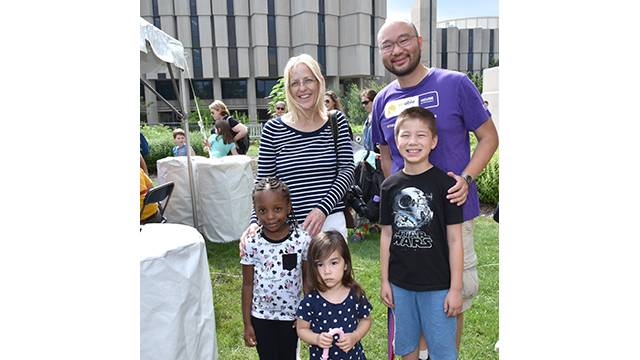 Third annual Community Picnic hosted 1,500 picnickers July 21
July 25 Lunch on the Lake concert will feature Chicago Soul Review
'Charlie and the Chocolate Factory' will close the Summer Cinema season
EVANSTON - Almost 1,500 community members gathered on the east lawn at Norris University Center last Saturday for the third annual Community Picnic. Hosted by Northwestern University's Neighborhood and Community Relations office, the free event offered face painting, balloon art, a bouncy house and a feast of favorite picnic foods from Evanston restaurants Hecky's Barbecue, Tomate Fresh Kitchen and YoFresh Yogurt as well as Compass Group, Northwestern's food service provider.
Northwestern Libraries, Block Museum of Art and Northwestern Arts Circle provided hands-on arts activities for youth including superhero-themed crafts, circus arts lessons with the Actor's Gymnasium and chalk drawing.
"We are energized by the partnership we are building with the Evanston community," said Alan Anderson, the University's director of neighborhood and community relations in Evanston. "Northwestern pledges to be intentional in everything we do and to always strive to strengthen this important relationship with our neighbors and partners."
The family fun continues this week with the following Summer at Norris events:
Lunch on the Lake: Chicago Soul Revue
Wednesday, July 25, noon
The Chicago Soul Revue offers an authentic tribute to the classic soul of Motown, Memphis, Philly and Chicago. Free watermelon and picnic pads are provided. Picnic lunches are available for $10 and include entrée, side, dessert and beverage.
Summer Cinema: "Charlie and the Chocolate Factory"
Wednesday, July 25, 8 p.m.
Free ice cream will be served before this reboot of Roald Dahl's beloved story about a young boy who wins a tour through a world-famous chocolate factory, led by an unusual candy maker played by Johnny Depp.
Both events take place on the East lawn of the Norris University Center. More information is available on the Norris Center website.
Back to top